| | |
| --- | --- |
| Jennifer, Here Are Your Articles for Wednesday, May 15, 2019 | |
Didn't make the Bookkeeping Tech Tuesdays? No Worries!
Missed a Tech Tuesdays? No worries!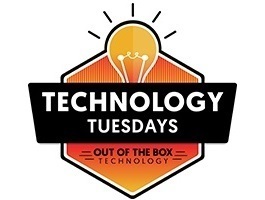 We record all of our Technology Tuesdays. We've had some great webinars these past few months on sales tax (huge turnout!), becoming an OUT OF THE BOX TECHNOLOGY client, our Hosting services, and much more! Click here to watch a recording of the last Technology Tuesdays.
Our next Technology Tuesdays – May 21, 2019 at 12 Noon Eastern
Whether your organization has 5 employees or 500, having a consistent email signature is essential to your business. No one likes to see variations in email signatures, but how can you make sure all your employees are using the same format? Business owners don't have time to micro-manage this task, and not all employees have time to keep up with the requirements. That is where Exclaimer Signature Manager comes in! This award-winning email signature software makes creating attractive email signature templates a breeze. And implementing them across your company even easier!
Come hear from our Director of IT, Chad Lampton, as he discussed the features of this software, how it has worked for OUT OF THE BOX TECHNOLOGY, and how you can get started with it today!

Click here to register for this free Technology Tuesdays.
---
Your Comments
out of the box technology
888-232-4758
hello@outoftheboxtechnology.com
7150 SW Hampton Suite 200
Tigard, OR 97223
Saved Articles
Comments and Feedback
Refer A Friend
Your Privacy

Our firm provides the information in this e-newsletter for general guidance only, and does not constitute the provision of legal advice, tax advice, accounting services, investment advice, or professional consulting of any kind. The information provided herein should not be used as a substitute for consultation with professional tax, accounting, legal, or other competent advisers. Before making any decision or taking any action, you should consult a professional adviser who has been provided with all pertinent facts relevant to your particular situation. Tax articles in this e-newsletter are not intended to be used, and cannot be used by any taxpayer, for the purpose of avoiding accuracy-related penalties that may be imposed on the taxpayer. The information is provided "as is," with no assurance or guarantee of completeness, accuracy, or timeliness of the information, and without warranty of any kind, express or implied, including but not limited to warranties of performance, merchantability, and fitness for a particular purpose.

Powered by

Copyright © IndustryNewsletters All rights reserved.

This email was sent to: jennifer@otbtechnology.com

Mailing address: 7150 SW Hampton, Suite 200, Tigard, OR 97223