| | |
| --- | --- |
| Jennifer, Here Are Your Articles for Wednesday, June 07, 2017 | |
What to Do if Your Business Is Audited
The IRS audits only a small percentage of tax returns, but if your business is one of the unlucky few, understanding the appropriate steps to take will help determine whether your outcome is favorable.
But how is your tax return selected for an audit? By many reasons, among them: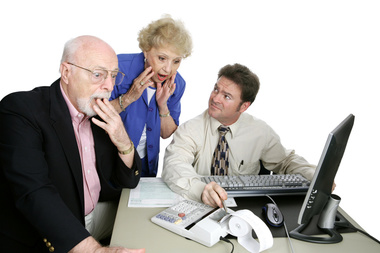 DIF scoring — Returns filed at the IRS are assigned a computerized score, a discriminant index function, or DIF, score. The higher the score, the more likely the return will be selected for examination. Are your deductions greater than your reported income? This can increase your DIF score.
Examination referrals — Audits of a related party can trigger an audit. An agent may discover payments that were reported by one company, but not by yours. Not seeing that income on your return will trigger the agent to request an audit of your company.
Document matching — The IRS matches income reported on 1099 or W-2 forms to the payee's individual tax return to ensure income is reported.
So then, what are some strategies for a small business to beat an IRS audit?
Dispute the hobby loss theory. Is the IRS saying that your business activity should be considered a hobby for tax purposes? According to Internal Revenue Code Section 183, deductions are limited when an activity is not engaged in for profit. This is known as the hobby loss rule. If business losses have been disallowed because of the hobby loss rule, it is essential to prove your business profitability strategy. For example, did the business implement advertising and marketing campaigns? Also, can you show prior success by providing evidence that the business had profitable years in the past?
Claim missed deductions. An audit is a great time to submit documentation for expenses not previously claimed on the tax return. If you discover you've overlooked some deductions, you may be able to claim them. Many taxpayers overlook common deductions — home office expenses and business mileage, for instance. On a personal tax return, taxpayers often don't deduct charitable contributions or mileage related to charity and medical expenses. This may mean paying more than required. Review your return under audit. Have an accountant look at it with you. Your business can deduct ordinary and necessary expenses spent to carry out your trade or activity. Use this time to submit documentation for overlooked deductions to reduce your liability or to possibly generate an overpayment of taxes that can offset any deficiencies found by the IRS. Common missed business expenses also include business gifts. The details surrounding all these deductions can be complex, so be sure to discuss them with your accountant.
Be creative in substantiating deductions. All is not lost if you don't have all documents to justify your expenses. The IRS allows for third-party documentation, oral testimony and other forms of corroborating expenses. For example, to support business mileage reported on your tax return, consider using Google maps, clients' records and past invoices to estimate mileage traveled during the taxable year in question.Take time to retrieve prior bank records or credit card statements. Make contact with vendors requesting proof of payment.
Most important, get professional help if you feel overwhelmed by the mere mention of the IRS.Give us a call immediately and we can walk you through the next steps. In this way, you completely remove yourself, your emotions and your fears from the equation.
---
Your Comments
out of the box technology
888-232-4758
hello@outoftheboxtechnology.com
7150 SW Hampton Suite 200
Tigard, OR 97223
Saved Articles
Comments and Feedback
Refer A Friend
Your Privacy

Our firm provides the information in this e-newsletter for general guidance only, and does not constitute the provision of legal advice, tax advice, accounting services, investment advice, or professional consulting of any kind. The information provided herein should not be used as a substitute for consultation with professional tax, accounting, legal, or other competent advisers. Before making any decision or taking any action, you should consult a professional adviser who has been provided with all pertinent facts relevant to your particular situation. Tax articles in this e-newsletter are not intended to be used, and cannot be used by any taxpayer, for the purpose of avoiding accuracy-related penalties that may be imposed on the taxpayer. The information is provided "as is," with no assurance or guarantee of completeness, accuracy, or timeliness of the information, and without warranty of any kind, express or implied, including but not limited to warranties of performance, merchantability, and fitness for a particular purpose.

Powered by

Copyright © IndustryNewsletters All rights reserved.

This email was sent to: jennifer@otbtechnology.com

Mailing address: 7150 SW Hampton, Suite 200, Tigard, OR 97223