Is This Your Situation? My Business Isn't Growing Fast Enough
Lots of businesses experience periods in which growth has hit a standstill. It's frustrating to be in this situation, but there are some ways to fix it. In this article we will go over some of the quicker fixes to solving stagnant growth.
Tendering for Contracts
Tendering for new contracts may seem like a lengthy process but it's an opportunity to gain some new business. You can start by approaching some of your customers and begin a pre-qualification process for services that they may need now or in the future. A customer may also send out an RFP or ITT (invitation to tender). Here are some tips on how to write your proposal:
Demonstrate your experience
Answer all questions in the RFP
Detail your plans to meet their needs
Include pricing
Furthermore, if you are a small firm, it's worth looking into government contracts. The government has really been increasing the number of contracts it gives to small businesses.
Selling More to Existing Customers
Your existing customers can be hugely beneficial when it comes to growing your business faster. They are an open resource to buy more of your products and services. If you have a customer that is already using some of your basic services, let them know about other services your offer; they might not know what's available. You can fix this in two ways:
Upselling: Try to get existing customers to buy more expensive products and services by appealing to their needs or incentivizing them with rewards for buying more.
Cross-selling: Let you customers know about other products and services you offer that are complimentary to the ones they already use. For example, if someone buys a vacuum off of Amazon, they are then shown images of a Dustbuster and carpet cleaner.
Strategic Advertising
Before jumping head first into a new advertising strategy, you want to make sure that an advertising campaign will be an effective growth option for your business. That means knowing your target audience and placing your advertisements in the type of media outlets that they use. Keep in mind that an advertisement is not a one-time thing, rather, you will probably need to repeat your ad more than once to spread awareness about your business, a new product, etc. Consider hiring a copywriter to help you craft an advertisement that will appeal to your target audience and tailored to the type of media you're using to place the ad.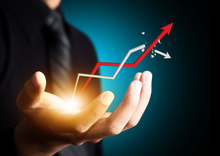 Product Development
Stay current with your customer's needs and the ways that their businesses are evolving by developing new products and services to help them. If you are a smaller business, you don't want to throw money at tons of innovation strategies for new products, rather aim to be the second business with the newest product on the market. What will assist you in your product development efforts, is understanding the life cycle of your current products and services. Once your products and services have been on the market for a while, your sales are at their peak, but eventually this will decrease when competitors step in or more advanced versions of your product come out. If you understand where your products are in their life cycle, you can determine what strategies you need in order to boost sales and how you can introduce new products and services.
---
Your Comments