We have to Share this Story!
Thank you to Dan Fields of Proper Properties in Maryland for allowing us to share his story.
---
I had a very complex problem. We are a construction maintenance company that can send up to 5 or 6 separate construction trades on a single job. And we need to track them and make sure each of the trades are invoiced for a given job or homeowner… Because the jobs don't all occur at the same time but rather over several weeks/months.
We were literally a full year behind on some of our invoicing, to the tune of hundreds of thousands of dollars in unprocessed invoices! The work had been performed, salaries paid to the technicians and materials purchased… But the invoices were not done, because we didn't have an automated invoicing system that could adequately keep track of all the work being billed.
We needed QuickBooks to be customized and formatted in such a way that we were able to search by various data fields to ensure all five or six invoices were done for that particular job.
I went through multiple tech companies and accounting companies all of whom promised they could set up QuickBooks to perform as we needed. But after literally paying over $10,000 and spending more than one year… I was worse off than where I started, because at this point I had loss countless hours, trying to fix the problem with "consultants", which got my invoicing even further behind!!
I mean my problem was so difficult even after dealing with the consultants I went to the highest level of the QuickBooks support team; explained my problem in detail and was literally told… "QUICKBOOKS CAN NOT DO THAT!" Yes that's right, they told me QuickBooks could NOT do what I was requesting.
So I was at the end of my rope. Just before we got off the phone I asked them are the any "QuickBooks experts" in my area (Washington DC) that could come to my office before I completely give up on this endeavor. They put me on hold and came back with a number for a company called Out-of-the-Box Technology.
My first encounter was with a woman named Donna who listen to my problem. Then she said we can definitely help you… I was very UNIMPRESSED with that statement because I've heard it many times before. Then she said, not only will I set you up with a QuickBooks expert but I'm going to assign a consultant who is expert in your field of building maintenance/ construction. That's when I began to believe I was actually going to see real results this time. And she said I'm sure will be able to do it remotely, and won't have to come to your office…
And then this technology goddess by the name of Connie Harvey calls me… It's hard to overstate how effective this amazing lady was/ is. In addition to being supremely competent with QuickBooks and my field of business… She had the most pleasant, can-do attitude you've ever seen. It took only one or two short sessions of brainstorming and her playing around with different ideas and scenarios… and by the third meeting I had real operational results!!!!!!!!!!!!!!!!
It was totally unbelievable… For about $500 I felt I had conquered the world, FINALLY!
In addition to making this software work perfectly for us, she delivered other nice benefits I didn't even anticipate… Like customizing/ formatting my various QuickBooks screens to make them look much more user-friendly, and specific to my needs… And other little things that can make a big difference like increasing font sizes, adding color coding etc. etc.
And now as I perfecting our usage of the invoicing I jot down my questions and notes and schedule a short session with Connie as needed… And she continues to make the application work better and better for us every time!
I was always willing to spend the time and money necessary to get this to work right, but I just never found a capable partner… They were all well intended but not well-equipped for this challenge. But Connie vis-à-vis Out of the Box Technology, truly and literally lives up to their name!!!
Dan Fields
Proper Properties, Inc.
Hyattsville, Md.
---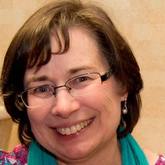 This is Out Of The Box Technology QuickBooks Consultant Connie Harvey. If you'd like to see if she can help you with your complex and not-so-complex QuickBooks issues, contact Ellen@otbtechnology.com.
---
Your Comments