CPA Firms - use our QuickBooks Expertise!
Times have changed for Certified Public Accountants (CPAs) and Accounting Professionals. Thirty years ago basic accounting was the first priority for clients as well as tax preparation and business planning.
"We were bookkeepers in the old days. All that has gone by the wayside," said Stuart Sakwa, of Silverman, Kaplan and Sakwa CPAs, PC. "Companies are doing more themselves and are taking it to a higher level now. They are still recording receipts and writing checks but they are doing it in computer general ledger programs."
QuickBooks® and other financial software made this transition possible but not all business owners are savvy computer users. A wrong ledger entry means a CPA or Accounting Professional can't get an accurate financial picture. That's where Out Of The Box Technology comes in.
"Out Of The Box Technology and a CPA are both there to assist in the education and support of the client. A CPA may do all that we do in the computerized accounting area, but their true value is to help a business owner with growth, tax planning, tax returns, analysis, cash flow planning and the like," said Out Of The Box Technology CoFounder Lisa McCarthy. "We collaborate on the knowledge and understanding of what the client needs and often Out Of The Box Technology will translate that to a QuickBooks process."
Patty Krishnan CPA, owner of Krishnan and Company, met Lisa nearly fifteen years ago and has sent a steady stream of clients to us for QuickBooks consulting. The picture is of Patty, Lisa, and Ellen Schroeter from Out Of The Box Technology.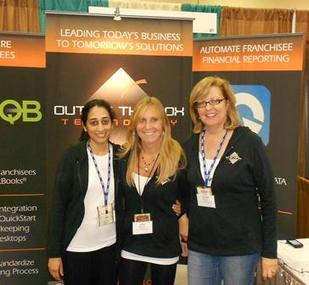 "Typically when client issues for QuickBooks come up, I think of Lisa," said Krishnan. "I recently had a challenge for a client who had some complicated inventory issues and Lisa helped me find a solution to this client's problem."
Krishnan depends on the "backroom support" she gets from Out Of The Box Technology. "They are always available and very responsive. As long as Lisa is in this business, I will be calling and bugging her team forever. They are great to work with and always have solutions for every issue."
While some things have changed for CPAs and Accounting Professionals through the years, the need to grow the firm has not.
"I really want my clients to think I'm looking out for their best interest," said Jim Sommerville, CPA. "I need to be freed up to handle more pressing issues and if I can reduce my clients' fees one year because I bring in Out Of The Box Technology, then I've secured a client for life."
If you are a member of a CPA firm and don't have an IT partner – contact us. We can provide IT expertise for your clients including computer set up, networking, break and fix issues to hosting.
Oh, and as far as hosting QuickBooks is concerned, this is an efficient way for you to be able to access your client's data. Let us show you how it works!
Please contact us today to talk about how Out Of The Box Technology can assist your clients! Email Ellen@otbtechnology.com.
---
Your Comments