Is This Your Situation? I Need Help Driving Traffic to a New Niche Practice Area
You know that capturing new markets is an excellent way to grow. Perhaps you have a talented team, but now you need the clients to create a thriving niche. Breaking into new industries is a difficult process, but you have to start somewhere. The most direct approach is to create meaningful meetings with your prospects one at a time and let the momentum begin.
Steps to creating new opportunities and sales within new industries.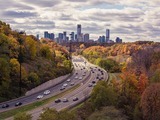 Whatever niche client base you're trying to build, whether it be not-for-profits, manufacturing and distribution, oil and gas, hospitality, professional services, etc., the plan of attack remains the same. Build your brand by showcasing your talents and expertise within that specific industry and meet with decision makers to explore the opportunities of working together. Nothing speaks louder to CFOs and controllers than you understanding their industry.
Accounting firms may choose to leverage the talents of an outsourced lead generation firm to get their sales leads on autopilot. Firms should seek out a professional lead gen team that can find the right contacts, build an email database for the firm, call and emails prospects, and set up introductions with decision makers.
Accounting firms may also choose to strategically partner with a digital marketing firm so that an outsourced lead generation team will have the tools they need to reach decision makers on a regular basis through an email newsletter platform.
After all, being an accountant is what you do. Specializing in tax, audit and other business and financial issues is your specialty. Attracting new clients and leveraging digital marketing solutions may be a digital marketing firm's specialty. Outsourcing may be the best option for a busy CPA firm.
If you're interested in outsourced digital marketing services, visit industrynewsletters.com.
---
Your Comments