QuickBooks Enterprise – Full Service Plan or Subscription Model
If you use QuickBooks Enterprise, you either are on what Intuit calls a "Classic Full Service Plan" model or a "Subscription" model. Don't know which you're on? Open QuickBooks, press [CNTRL] 1 and a page will pop up showing you that information.
Classic Full Service Plan
If you're on this version of QuickBooks, you bought your software many years ago. Intuit, the makers of QuickBooks, is now selling Enterprise as a subscription model and at some point is going to move all of its Classic Full Service Plan clients to that version. Yes, that means you.
Let us help you be proactive in moving to the subscription model before Intuit does and charges you a higher rate. Out Of The Box Technology offers great rates for the subscription version that are for the lifetime of the software. The price you pay when you move to the subscription model will be the price you pay yearly and it won't increase. Just let us know how many users of Enterprise you have, and we can send you a quote. After you move to the subscription model, you'll even get a refund from Intuit on any money you've spent on your Full Service Plan that year.
When Enterprise first came out, clients had to purchase the software in bundles of fives – even if they needed only one or two users. Now you can purchase Enterprise from 1 to 10 users and then in a bundle from 11 to 30 users. Take a few minutes to review just how many users you need in your QuickBooks file. You could reduce by one or two and save money when moving to the subscription model.
Subscription Model
If you're on this version of Enterprise you have either Silver, Gold or Platinum.
Take a few minutes to review if you still need the version you originally purchased. Did you buy Enterprise Gold thinking you were going to use payroll but decided against it? Move down to Silver. Did you think you would take advantage of Advanced Inventory in the Platinum version but have never used it? Move to the less expensive Gold or Silver. We can help you do this!
Every year, you should also review how many QuickBooks users you need. If people have left your organization, there's no need to pay for that user.
Special Intuit Credit Card Processing for QuickBooks Enterprise Clients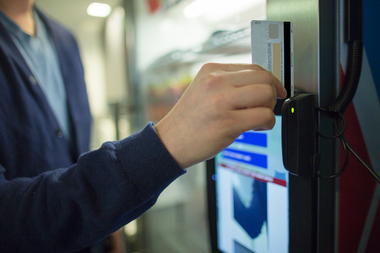 As an active 2016 Enterprise client, you have access to these great credit card processing rates.
Enterprise Solutions-Full Service Plan Bundle Pricing
$0 Monthly fee
1.60% swiped rate
2.85% non-swipe rate
Transaction Fee - $.25
ACH - $.50
If you like these rates and want to get a quote for your business or if you want to review your current QuickBooks Enterprise version and number of users, please contact Out Of The Box Technology. Use the form below or email or call. We're here to help – and save you money.
---
Your Comments