| | |
| --- | --- |
| Jennifer, Here Are Your Articles for Tuesday, July 26, 2016 | |
Have you considered a Mobile APP for your business?
One estimate we found says that out of the world's estimated 7 billion people, 6 billion have access to mobile phones. When you go out to restaurants or airports or really anywhere, wouldn't you agree most of the people you see have mobile devices? And there are APPs on those phones and tablets. And one of those APPS could belong to your business.
Out Of the Box Technology offers a mobile APP that –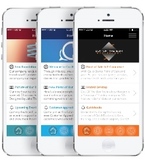 Has a quick and easy set up. Give us your logo and we'll do the intitial set up.

Has two platforms – iPhone and Android

Has access to the admin panel – so that you can easily change content.

Has seven different types of content – news, surveys, photos and more.

Has personal branding – through the admin portal choose which colors work best so you can keep your branding consistent.

Has push notifications – so you can let your customers know through the app what's new or what's on sale or what's today's feature.

Has social media integration – post in the APP and you post on Facebook and Twitter and other social media.
But I have a website, you say. Your clients access your website most often when they're at work in front of their laptop on their desk. A mobile APP lets you get in front of your clients. You can be proactive in getting your message in front of them – not waiting for them to log onto your site to see your current sale or promotion.
We'd love to show you our APP, discuss pricing and how it would work for your business. Just use the form below or email Ellen@otbtechnology.com.
Get a look at ours here for the iPhone and here for the Android. Download it your phone or tablet!
---
Your Comments
out of the box technology
888-232-4758
hello@outoftheboxtechnology.com
7150 SW Hampton Suite 200
Tigard, OR 97223
Saved Articles
Comments and Feedback
Refer A Friend
Your Privacy

Our firm provides the information in this e-newsletter for general guidance only, and does not constitute the provision of legal advice, tax advice, accounting services, investment advice, or professional consulting of any kind. The information provided herein should not be used as a substitute for consultation with professional tax, accounting, legal, or other competent advisers. Before making any decision or taking any action, you should consult a professional adviser who has been provided with all pertinent facts relevant to your particular situation. Tax articles in this e-newsletter are not intended to be used, and cannot be used by any taxpayer, for the purpose of avoiding accuracy-related penalties that may be imposed on the taxpayer. The information is provided "as is," with no assurance or guarantee of completeness, accuracy, or timeliness of the information, and without warranty of any kind, express or implied, including but not limited to warranties of performance, merchantability, and fitness for a particular purpose.

Powered by

Copyright © IndustryNewsletters All rights reserved.

This email was sent to: jennifer@otbtechnology.com

Mailing address: 7150 SW Hampton, Suite 200, Tigard, OR 97223