Getting Better Sales Analysis in QuickBooks
In sports, coaches track statistics during each game and throughout the season to help them make adjustments that increase the probability of winning. In baseball, the number of pitches is monitored throughout the game. In basketball, the shot chart is reviewed at halftime. Football teams have a press box coaching staff that evaluates execution and performance from a higher perspective and give the sideline coaches feedback for making adjustments.
Out Of The Box Technology offers a similar comprehensive scorekeeping system for QuickBooks. It's called DynaScore. DynaScore provides the Sales Manager "coach" daily updates to the critical information that will improve and maximize a business's sales score. And it does not require that the "coach" know accounting, QuickBooks or use QuickBooks.
With DynaScore, sales managers can travel down four paths for learning their sales "score:"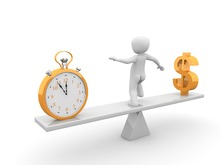 Sales values for any selected date range

Ranking of customers, items, delete, sales territories and sales reps

Comparisons between any two months or any two months year-to-date

Investigative capability—summary level reports or drill down to the record level data
Reports include data for quantity, revenue, cost, gross profit and gross profit percent for customers, customer types, items, item types, and sales reps. Utilizing advanced filtering capabilities, the reports can be generated for any combination of the customer, items or sales reps. A Hi/Low ranking report is also available by month or by month YTD for quantities, revenues, gross profit or gross profit percent. The available lists are customers, customer types and items, item types, sales reps with whatever records included as selected by the filter.
DynaScore is a desktop-based system using the database reporting program Alpha Anywhere. While it is a turnkey application, there is some fine tuning that may need to be done depending on how the client has implemented QuickBooks.
Want to see how it works? Join us for a free demo of DynaScore on Thursday, August 11, 2016 at 12 noon Eastern. Email Ellen@otbtechnology.com for a registration link or use the form below and she'll send you one.
We can even answer your DynaScore questions before then. Feel free to contact us.
---
Your Comments