The Ultimate Work-at-Home Guide
You were forced to say goodbye to your onerous commute to work. But you've discovered that technologies such as Skype, FaceTime, Slack, Zoom, Google Hangouts and cloud computing keep you productive. Employers are noticing employee productivity and lower organizational costs. You see that it's very possible this could become a permanent scenario.
It turns out that many telecommuting workers with very complex jobs who don't require a lot of collaboration or social support can actually perform better than their office-based counterparts, touts a study in the Journal of Business and Psychology. And in the event of a disaster, a distributed workforce is in a better position to keep operations running if some of the team goes offline.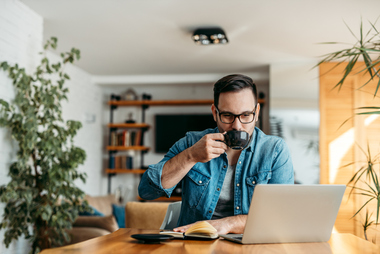 How can your work-at-home time shine? Here are tips to consider:

Set yourself up to be productive. Have a designated workspace with the right technology. Create a plan to deal with kids, pets and other potential interruptions, with the understanding that this can be difficult during the pandemic. Keep in mind that getting kids to see you work hard at something you love — even the parts you don't love — can influence their future career choices and entire attitude toward work.
Set a schedule. Some jobs, and some businesses, involve work taking place strictly from 9 a.m. to 5 p.m., while others are more flexible. You may have to work around the schedules of children, a spouse or a roommate. Smart companies are making themselves open to new arrangements — discuss options.
Think about what you need. Which tech tools might you require? Consider Zoom for videoconferencing; Slack, Google Meet or Microsoft Teams for group chats; and Trello for project management. Google Hangouts, WhatsApp and Skype let you call over the internet across the globe on the cheap. There are many communications options. Buy a webcam; most workers can use a simple model. Set it up correctly, and make sure your room has adequate lighting so that your full face is visible. Focus on the call at hand.
Consider whether you have the appropriate setup for your work. You'll want solid network access, passcodes to your programs and company intranet, and instructions for remote login with two-factor authentication. (This is where you need, for example, both a password and a one-time code via your cellphone to log in to a system.) Check with your internet provider to verify that you have (or to acquire) a high-speed connection and be sure your workstation is close enough to your router for a good connection. Minimize distractions and consider investing in noise-canceling headphones. For emotional well-being, plan some connect time with the nonwork world, either in a virtual environment or in person, as much as safety protocols allow.
Set your working hours and stick to them. Actually work during those hours, and don't let anyone dissuade you from the idea that you're truly employed. On the other side, beware of workaholic tendencies. As when you work in a traditional office, give yourself regularly scheduled breaks, stepping away from your desk and, if possible, taking socially distanced walks.
Create a barrier between work and the rest of your life. Experiment with different work setups to see which works best for you — you can even try outdoor venues for work, if it's safe in your situation. Use props to help trick your brain into thinking that it's time to work or time to relax. Wear more serious shoes and a shirt when it's time to work and kick them off when it's time to stop and smell the roses. The best way to be productive is to work in short sprints, not long marathon sessions. Stick to project deadlines and due dates. Hold yourself accountable —make a commitment contract.
Consider the financial aspects. You may need to buy a laptop, printer, high-end internet service and more. Have a talk with your employer about what you need and what they will pay for. Even if your employer will not assist financially, it is likely that the elimination of commuting costs, which can run thousands of dollars a year, is a de facto source of funding. Keep a strict accounting of business purchases. (The popular Ask a Manager blog recently addressed the issue of who will be paying for what, and many readers commented about what their companies are doing.)
Go the extra mile to stay in touch with colleagues and managers. Keep your team up to date on your progress. Don't become invisible, and carry on small talk on chat apps and stay in regular contact. Let people know when you're stepping away. Blast out a "Taking Lunch" or "Taking a break message" in your team's chatroom — and companies may have policies regarding this, so check. Hold progress chats — these updates give you a chance to talk about what you're working on today and what you worked on yesterday. They help you share what goals you've completed and prove you're getting things done.
When you're done, be done. Turn off notifications for work-related tasks at certain times of day. This will make it easier for you to relax. After office hours, set your chat app to "do not disturb." Many applications and tools allow you to set a work schedule so this will happen automatically. If you're urgently needed or there's a real emergency — tell coworkers to call you directly.
Every business is going to have different needs and different policies. If everyone works together and shows some flexibility, telework can get the company through the pandemic — and beyond.
---
Your Comments