Long-Term Care Insurance: The Pros and Cons
Long-term care insurance can help defray the costs of long-term care. Though pricey, it's an investment that pays off if you wind up using it.
The dollar amounts for long-term care are ugly. A one-year stint in a nursing home averages more than $87,000 for a private room, according to a survey by Genworth Financial, a long-term-care insurance carrier.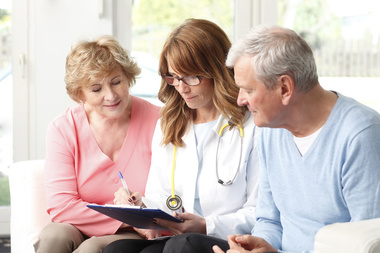 It can cost significantly more in such high-cost locales as New York ($136,000) and, surprisingly, Alaska ($240,000). Even home care, which costs less, can still run in the $50,000 range.
Long-term care insurance reimburses the cost. To claim the benefit, most policies require you be unable to perform at least two activities of daily living — bathing, dressing, feeding and toileting.
The lure, then, of long-term care insurance is dismissing the worry of depleting your assets for your spouse and children. A good idea is to buy early when you're in good health — you'll pay three times as much if you wait until age 70. The biggest cost of waiting is your health — you don't know what it will be in 20 years and whether you'll qualify for coverage by then.
A policy that costs $5,000 a year is equivalent to a one-month stay in a nursing home in many locations. On the negative side, rates are not guaranteed and can be hiked by insurers. Still, if bought early, future increases will be figured from a lower base. Yearly increases of 3 to 5 percent a year are not unusual, and in some years, premiums are hiked even more. The aging baby boomer population and rock-bottom interest rates translate for insurers into more potential claims and meager investment returns to pay them from.
Some ways to avoid such pain? Some policies cover at least $300 a day, with inflation protection — for just three years — the amount of time the average person needs such coverage. Health care costs rise about twice the rate of general inflation. In 20 years, a $300-a-day benefit may not buy much care at all.
If you are diagnosed with dementia, you may need care for a decade. Then, a partnership policy will let you keep a sizable portion of your assets after your benefit runs out, and you'll still qualify for Medicaid.
A partnership policy with a maximum benefit of $500,000, for example, allows you to keep $500,000 of your assets after your long-term care insurance runs out and still be eligible for Medicaid. Typically with Medicaid, you are allowed to keep only around $100,000 in assets, depending on your state of residence. Medicaid covers custodial care, but unless you have a partnership policy, you may not have a choice of which facility you will be assigned to.
People with significant assets — in excess of $2 million — can self-insure. Of course, if this is your situation, you may prefer to buy long-term care insurance and pass assets to your heirs. Another avenue to consider is a reverse mortgage: You'd use your assets to pay for long-term care and take a line of credit. When not immediately used, it can continue to grow until you need it.
Still another idea is an annuity with a long-term care rider. Money invested in a deferred annuity with the rider can be used tax-free to pay for long-term care, thanks to IRS rule changes.
It's also a good way to go because medical underwriting is less stringent than long-term care insurance; you have greater freedom in how you use the long-term care benefits and, if you don't need them, you can redeem the accumulated value of the annuity. Upon your passing, your heirs will collect on the annuity, less withdrawals for long-term care.
The negative aspects? Annuities require an upfront premium of $50,000 or more. The money is locked up for five to 10 years, with steep penalties for withdrawals. Investment returns are typically minimal.
You can consider using life insurance, sometimes combined with a long-term policy, to protect your estate against the future costs of long-term care. If you have an estate worth $1 million to $4 million, you have enough money to pay for long-term care, but it could eat up your estate. Life insurance lets you draw down on the interest and principal from your investments for long-term care, with a guarantee to leave your children money.
This protects the value of your estate against long-term care risk, and you won't have any long-term care underwriting concerns. You can supplement the life policy with a lesser-amount long-term care policy to insure part of the risk.
Are there options that might enter the marketplace in the near future? On the drawing board are disability plans that automatically revert to long-term care coverage at age 65 or 67, with a guaranteed issue provision for your spouse at age 65. Both types of coverage are needed to give people peace of mind — transitioning the disability premium over to a long-term care contract that doesn't need to be qualified for.
Don't hesitate to get in touch with us about the latest developments in long-term care insurance and what may be right for you.
---
Your Comments