| | |
| --- | --- |
| Here Are Your Articles for Monday, September 21, 2020 | |
How to Address Ergonomic Needs
As more and more people work at home and not in their business offices, setting up an effective space for safe and productive work may be challenging. This is also true for companies bringing back staff into workspaces that have been redesigned for social distancing.
What does the Occupational Safety and Health Administration have to say? Ensuring safe and healthful working conditions for employees should be a precondition for any home-based work assignments. But it also wrote that an employer is responsible for ensuring its employees have a safe and healthful workplace, not a safe and healthful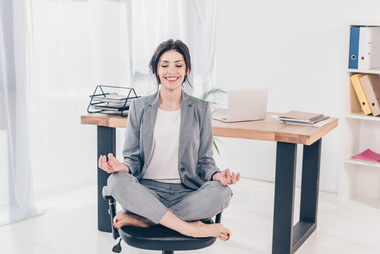 home. Employee training is one way for an employer to meet its general responsibility for preventing violations.
Here is some direction from Employee Benefit Adviser:
Can an employer cannot overlook an employee's work environment? Bad ergonomic habits could mean higher health care costs, as employees suffer from muscle strain and other physical ailments. Casual and comfortable atmospheres are not necessarily ergonomically desirable.
Can an employee work remotely? You may want to assess employees' emotional capacity to work in solitary environments via a form to see whether workers have the right temperament for telecommuting. Those who are poor fits may need extra help in becoming successful telecommuters.
Do your employees have the right workstation setup with a dedicated space with ergonomics in mind? This means a proper-fitting chair to reduce back strain, computer screens adjusted for the right height and ergonomic keyboards that reduce tension on muscles to prevent future injuries or pain.
Do you have an employee with a medical condition that requires accommodation? Such situations may fall under the Americans with Disabilities Act.
Would employees allow an ergonomic consultant to assess home workspaces to determine the right setup, or to help adjust or implement a workstation setup? A consultant from the employer's disability carrier can help weigh in on options and what should be taken into consideration before an item is purchased.
As an employer, you can reach out to employees to take ergonomic factors into consideration as they set up their workspaces:
Attain a proper posture while performing sitting or standing work, sitting with your neck straight, shoulders straight, arms down loosely at your side, elbows at a right angle, wrists straight, low back support from the back of your chair, and feet flat on the floor or on a footrest.
Your keyboard and mouse should be positioned at elbow level. The top of your monitor should be at or slightly below eye height.
During these exceptional times, people working from home can try to ensure that they work safely and productively. Your "environment" — chair, desk, keyboard and smartphone — should be positioned based on the tasks you perform in order to achieve the optimum workstation setup. Companies and employees need to work closely together to ensure a healthful working environment — it's in everyone's best interest.
---
Your Comments
Kim & Lee, LLP
info@kimleecpas.com
2305 W. 190th St. Suite 100
Torrance, CA 90504
Saved Articles
Comments and Feedback
Refer A Friend
Your Privacy

Our firm provides the information in this e-newsletter for general guidance only, and does not constitute the provision of legal advice, tax advice, accounting services, investment advice, or professional consulting of any kind. The information provided herein should not be used as a substitute for consultation with professional tax, accounting, legal, or other competent advisers. Before making any decision or taking any action, you should consult a professional adviser who has been provided with all pertinent facts relevant to your particular situation. Tax articles in this e-newsletter are not intended to be used, and cannot be used by any taxpayer, for the purpose of avoiding accuracy-related penalties that may be imposed on the taxpayer. The information is provided "as is," with no assurance or guarantee of completeness, accuracy, or timeliness of the information, and without warranty of any kind, express or implied, including but not limited to warranties of performance, merchantability, and fitness for a particular purpose.

Powered by

Copyright © IndustryNewsletters All rights reserved.

This email was sent to: ajj@kimleecpas.com

Mailing address: 2305 W. 190th Street, Torrance, CA 90504