| | |
| --- | --- |
| Here Are Your Articles for Monday, December 16, 2019 | |
Keep Your Smartphone Apps Secure
Apps that gather precise geolocation data without your knowledge? Creepy, especially considering all the personal stuff you've put on your phone — passwords, credit card data, photos.
How can you tell whether an app is tracking you? How can you get it to stop? There's no foolproof protection in today's world of evolving technology — but here are some tips from privacy experts: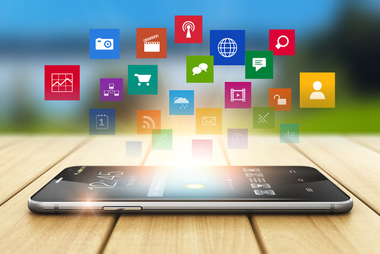 Use a password manager app — A series of letters, numbers and symbols in random order is harder for a computer to crack, even if it's harder to remember. Password managers keep all your passwords in one encrypted and password-protected app — it generates and remembers strong passwords. A password manager is even more secure than apps like Google Chrome and Samsung's proprietary phone app that save passwords for you. Don't use the same password for multiple accounts. With a password manager, each account has a different, complex, hard-to-crack password.
Be aware of app permissions — Ask yourself if it makes sense for an app to ask for certain permissions. If it's asking for access to data that doesn't seem relevant to its function, that's a major warning sign. Why would a simple app for a calculator ask to see your contact list and location? That should ring some alarms.
Monitor how your phone behaves after a download — Major changes in your device's battery life may be indicative of problems. Unwanted apps can constantly run in the background. Is your battery life decreasing faster than usual? An app that's up to no good could be operating in the background.
Research the app or company — If an app seems dicey, do a quick Google search to gather more information. Search the name of the app, and add the phrase data scandal or scam. The results should show you whether there have been any recent privacy or data leaks.
Limit social media exposure — This can save you from privacy invasion, but you may appear on a friend or a family member's account, making you still visible. Through social media, companies can construct a shadow profile detailing your likes, dislikes, political leanings and religious beliefs.
Keep software up to date — It's critical to keeping your data safe. Updates let you stay a step ahead of hackers and their attacks. You can adjust your phone's settings to update automatically. The methods we use to protect our smartphones need to evolve just like the hackers constantly evolve.
Download apps only from Google or Apple stores — Not all the apps in these stores are 100% trustworthy, but it's better to stick with known entities rather than sideloading an app. Downloading from unofficial or insecure sites increases the risk of ransomware, malware, spyware and Trojan viruses that can infect your phone or, even worse, take full control of it.
Here are several more quick tips:
Use a passcode that will lock your phone from others.
Don't click on suspicious links — Look at the URL and do some research before typing in personal details.
Erase your data from afar — Use a technique called remote wiping.
Use security applications — Install security software just like you do on your computer to protect it from unwelcome access.
Think of all the things you do on your phone — payments, work, texting, tweeting, plus banking and navigating — and on and on. Keep your device safe from hacked browsers and petty thieves. The more you're connected, the more you stand to lose. The risks will continue to grow along with our phones' popularity. Protect your data and yourself with just a few simple measures.
---
Your Comments
Kim & Lee, LLP
info@kimleecpas.com
2305 W. 190th St. Suite 100
Torrance, CA 90504
Saved Articles
Comments and Feedback
Refer A Friend
Your Privacy

Our firm provides the information in this e-newsletter for general guidance only, and does not constitute the provision of legal advice, tax advice, accounting services, investment advice, or professional consulting of any kind. The information provided herein should not be used as a substitute for consultation with professional tax, accounting, legal, or other competent advisers. Before making any decision or taking any action, you should consult a professional adviser who has been provided with all pertinent facts relevant to your particular situation. Tax articles in this e-newsletter are not intended to be used, and cannot be used by any taxpayer, for the purpose of avoiding accuracy-related penalties that may be imposed on the taxpayer. The information is provided "as is," with no assurance or guarantee of completeness, accuracy, or timeliness of the information, and without warranty of any kind, express or implied, including but not limited to warranties of performance, merchantability, and fitness for a particular purpose.

Powered by

Copyright © IndustryNewsletters All rights reserved.

This email was sent to: ajj@kimleecpas.com

Mailing address: 2305 W. 190th Street, Torrance, CA 90504