Leave Your Estate to Your Grandchildren
First, understand that if you skip a generation in your estate plan, you should let your family know so there's no shock when you're gone. Even if you do let everyone know, make sure your will is clear and up to date, and consider an additional letter of instruction to clarify the directions in your will. If you intend to bypass close relatives — such as your children — it's best to have a lawyer phrase the will carefully. This will help prevent or defeat challenges to the will should they occur.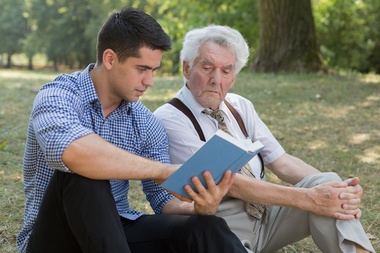 Second, you have to consider the law. The government has long anticipated what you might be doing. By leaving wealth to your grandchildren, the inheritance is subject to a generation-skipping transfer tax, levied in addition to estate and gift taxes. The GST makes sure the IRS gets its cut no matter what.
You may run afoul of the GST tax if you make direct gifts to grandkids. But wait! You had a $5.45 million GST tax exemption as of 2016 raised to $5.49 million in 2017. So — phew! No real worries here, then. You and your spouse can give up to $14,000 annually to each of your grandchildren, and under this arrangement, each grandchild can be given up to $28,000 each year without any GST tax or gift tax and without using up any of your multimillion-dollar GST tax exemption or unified federal gift and estate tax exemption.
Maybe you've been thinking about paying for education as you see your grandchildren at the gateway to adulthood. You have several choices: a 529 plan, a Uniform Gifts to Minors Act (UGMA) account or a Uniform Transfers to Minors Act (UTMA) account. Doing this during your lifetime may be a strategic way to reduce the value of your taxable estate while working toward education savings goals.
If your grandchildren are still minors, you may wish to ensure they are provided for financially. You can consider them when you choose life insurance, helping cover college education costs via the insurance or providing for them in adulthood.
Thinking About Trusts
Trusts can be beneficial for minor grandchildren, allowing you more control of your assets even after your death. In setting up the trust, state how you want the money you leave to the grandchildren to be managed, under what circumstances it can be distributed and when it should be withheld. You can determine whether your grandchildren should control the money at a certain age as co-trustees or full owners.
If you set up a trust with your grandkids as contingent trust beneficiaries, you have a potential GST tax problem, even though your grandchildren aren't necessarily expected to actually get any trust money.
A trust also can be used to transfer assets to adult grandchildren, and it reduces your estate taxes while allowing you to wield your influence over the assets even after you've passed away. Generation-skipping trusts allow trust assets to be distributed to non-spousal beneficiaries two or more generations younger than you without incurring GST tax.
How about leaving your grandchildren as beneficiaries of your IRAs? Options include:
Name grandchildren individually, and if any pass away prematurely, note that the assets are to be divided equally among the rest.
Choose "per stirpes," which means that if one of your children passes away before you do, his or her share automatically goes to the descendants.
Name grandchildren contingent beneficiaries if you want to name your spouse as primary beneficiary and know that your children are financially secure. This way, if your spouse passes away before your IRA is transferred, the assets go to your grandchildren.
For any grandchildren who may be unable to care for themselves as adults, you may want to help ensure they have the care and oversight they need for their lifetimes. Leaving them assets and making them beneficiaries of life insurance policies are options. Trusts can be useful as well to help ensure money is spent properly if you fear they won't be able to make spending decisions on their own.
---
Your Comments