Time to Think About Tax Scams
Illegal schemes — what is it about them that promotes glee? After all, there's the famous scheme that's the central story of the movie "The Producers" — sell way more shares than 100 percent of a play, make sure it's a flop and you get to keep the money. And what of the simple scam that occurred when ATMs were oh-so new? Someone put a cardboard box under the machine in Chicago with a sign that said, "Machine broken, put deposits here." And people did. You've got to admire such a purely elementary plan.
But the IRS is not amused. Indeed, participating in an illegal scheme with the goal of not paying taxes can send you to jail and make you poor, because then you're slapped with fines — AND you have to repay the taxes you owe, with penalties and interest.
This goes for scams by people who do their own taxes, people who promote tax schemes AND people who prepare fraudulent returns.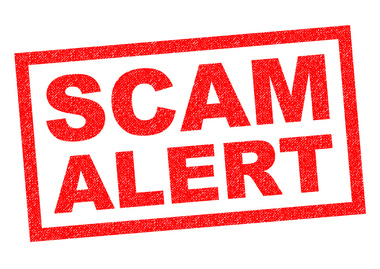 So what are we talking about?
Common abusive tax scams can include anti-tax law, home-based business, trust and offshore schemes, the IRS tells us. You may have heard of abusive tax shelters, transactions involving a retirement plan or an exempt organization being used by for-profit entities as accommodation parties to tax avoidance. There are hotlines and even tax complaint forms that you can get your hands on to report these illegal doings. You can remain anonymous if you prefer.
If you know about a potentially abusive transaction that could be used by many taxpayers, you should report the suspected tax fraud activity. The IRS is more than happy to hear about it. This type of activity poses a significant risk of noncompliance for the IRS.
Now let's look at the really BIG scams — the IRS calls them the "Dirty Dozen," and if you guessed the aggressive telephone scams you've heard about in the news or even hung up on are No. 1, you'd be right.
Threatening phone calls from scam artists have continued all across America. The big thing to keep in mind is never give money or personal financial information to anyone who calls you and claims to be from the IRS.
Email phishing comes next, and here someone can try to steal your identity. These schemes can lead to criminal prosecution. There's an IRS criminal investigation unit that works closely with the Department of Justice to shut down scams and prosecute the criminals.
Now let's look at another thing to guard against: fake charities — groups that are masquerading as charitable organizations to attract donations from unsuspecting contributors. Make sure your hard-earned money goes only to legitimate charities.
Others of the Dirty Dozen are hiding income with fake documents, abusive tax shelters, falsifying income to claim credits, excessive claims for fuel tax credits, and frivolous tax arguments that encourage taxpayers to make unreasonable and outlandish claims to avoid paying the taxes they owe. The penalty for this last one is $5,000. A frequent argument is that because of a technical error, Ohio was never properly admitted to the Union and that invalidates a slew of federal laws. Do not try that argument with the IRS.
Be vigilant. It's plausible to many unsuspecting taxpayers that the IRS has received their return and now is calling to alert them of an unpaid balance. These callers sound rather convincing, with official-sounding titles and fake badge numbers, and they might even know a great deal of your personal information. And you know what? They've been successful at stealing $26.5 million from unsuspecting taxpayers so far. The other biggie — phishing, telling a taxpayer to update his or her file by email. If you are told it's an IRS website but it doesn't begin with IRS.gov — it's probably a fake.
Remember — thieves are creative, so don't fall for tricks. The best way to avoid being victimized is to know the warning signs. If you know how the IRS interacts with taxpayers and what a legitimate IRS web address looks like, you'll avoid many tax scams.
The IRS doesn't initiate contact with taxpayers by email, text messages or social media channels to request personal or financial information. If you have any doubts, contact a financial professional, and don't be rushed into sending a check or giving personal information just to make the problem "go away."
---
Your Comments