Sick Leave Laws To Consider
Sometimes flu can sweep through an office, decimating a company. Or maybe it's just a range of illnesses. Whatever your situation, you need a sick leave policy. But it must be in compliance with a range of federal, state and even local rules. Here's a list of specific locations with sick leave regulations — particularly those that have paid sick leave rules. Note that this list is not comprehensive and can change frequently, so be sure to check for your location.
States with paid sick leave laws: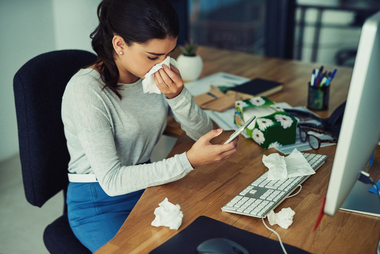 California
Arizona
Vermont
Oregon
Washington
Michigan
Massachusetts
Rhode Island
Maryland
Connecticut
New Jersey
Cities with paid sick leave laws:
San Francisco
Chicago
New York City
Los Angeles
Washington, D.C.
San Diego
Philadelphia
Seattle
Other localities with paid sick leave laws:
Long Beach, California
St. Paul, Minnesota
Tacoma, Washington
Spokane, Washington
Berkeley, California
Westchester County, New York
Oakland, California
Montgomery County, Maryland
Emeryville, California
Santa Monica, California
Basically, state and local laws generally specify which employees are eligible for paid sick leave, the accrual rate for paid sick leave and the circumstances under which paid sick leave can be taken — such as for the employee's own illness or to care for a sick family member.
There's growing momentum for paid sick leave laws at the state and local level. So, even if your employees aren't currently covered under state or local law, keep an eye out in case that changes.
The Family and Medical Leave Act
There are federal rules as well. The FMLA provides 12 weeks of unpaid, job-protected leave to eligible employees who have serious health conditions or need to care for a child, spouse or parent with a serious health condition.
The flu, for example, may qualify as a serious health condition if it lasts more than three consecutive days and the affected employee received treatment from a health care provider. Moreover, eligible employees may be able to take FMLA leave to care for a family member suffering from the flu if the situation qualifies as a serious health condition.
The Americans with Disabilities Act
Employment law experts widely agree that a relatively brief illness, like a cold or the flu, isn't likely a covered disability under the ADA because it usually doesn't last long enough to substantially limit major life activities. However, it is possible for severe cases of the flu and similar illnesses to be considered a disability as defined by the ADA. An employment attorney can help with this.
Lastly, do not forget about the Occupational Safety and Health Act's basic rule that employees have a right to a safe and healthful workplace. In fact, OSHA's website shows you how to protect your employees during flu season.
---
Your Comments