How to Keep Indoor Plants Alive
Many people enjoy having indoor plants so that even in the colder months, they can bask in the beauty of fresh greenery. However, it's not easy to keep indoor plants thriving. The last thing you want is to wake up to brown plants every day in the middle of winter.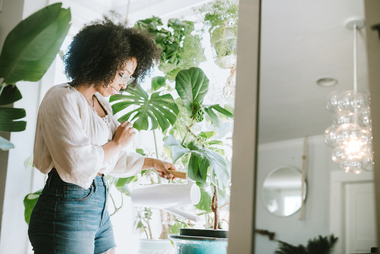 Here are the only tips you need to make sure your plants stay alive and healthy all year long!
Know the physical signs
Get to know your plant and start to learn the physical signs that it needs some TLC. For instance, if the soil is very dry, give the plant more water until the soil feels moist again. However, if the soil looks drenched, don't water it until the water has been absorbed and the soil begins to dry out again.
Take a look at the leaves and roots. Do the leaves have brown spots? If so, you may need to adjust your watering routine or change the location of the plant. Are the roots starting to rot? This is a sign that you are overwatering the plant.
Check the location
The best location for your plant will depend on what type it is. Always take a look at the instructions that come with your plant — they will advise you on how much sunlight it needs, etc. In general, plants should not be located in areas of your home that are too cold or in places where they can get sunburned. Yes, plants get sunburns too! Additionally, keep plants away from heating or cooling vents.
Assess the pot
As your plant evolves, chances are it will outgrow the pot it came in. If the plant is looking crowded in its current container or if you start to see the roots emerging at the top, it's time to repot your plant. In general, you should choose a pot that is about 2 inches wider and deeper than the original container.
Use a filter system
Using some kind of filter system at the bottom of the pot is a great way to make sure that excess water doesn't drown the plant. Popular options include packing peanuts, pebbles and coffee filters.
Change the water
If you notice that your plant is still suffering, even after you've watered it adequately and placed it in an appropriate location, it could be the type of water you're giving it. Sometimes tap water can contain things like chlorine, which many plants can't tolerate. Try collecting rainwater or use filtered water to see if this will bring your plant back to good health.
Looking for even more household tips and tricks? Give us a call today! We love to share our knowledge.
---
Your Comments