Get the Trend: Bohemian Chic
Lots of people are jumping on the bohemian chic trend when it comes to home décor, and with good reason: this trend is filled with fun colors and patterns to choose from. One of the touchstones of the boho trend is comfort and individual style, making this fad even more popular. For some easy tips to get the boho look in your own home, keep reading.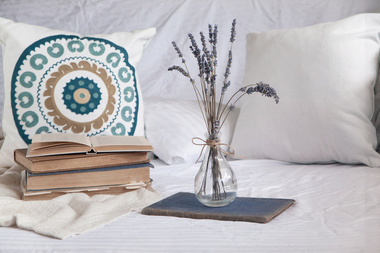 Contrasting textiles
The secret to boho chic is diversity in everything you bring into your home. A simple way to get the bohemian look in your home is to use lots of textiles in contrasting patterns and textures. You could style your sofa with ikat-patterned pillows, a sheepskin throw and a colorful tapestry hanging overhead. The beauty of the boho trend is that things don't have to match — what's appreciated more is ingenuity and creativity.
Handmade, one-of-a-kind pieces
Look for items that are homemade and have a touch of the rustic and natural. Maybe you can find paper lanterns at a market while traveling — this would be a great addition to your living room or bedroom. A braided rug by a local artisan is a great way to make your living space cozier and inviting.
Fill the space with loved items
Keep in mind that the bohemian trend honors personal aesthetic and objects with sentimental value. Make sure to fill your space with items that you love. This could be in the way of old photographs, a Navajo rug, antique furniture, quilts and even plants.
Bold colors
If you learn anything from this article, it should be the bolder the better when it comes to color in the typical boho-inspired home. Again, it doesn't need to be matchy-matchy. Just choose colors that make you feel inspired and peaceful. For a tamer version, try painting one wall an accent color instead of the entire room.
Harness happiness and comfort
Another staple of the bohemian chic trend is happiness and comfort. For a cozier atmosphere, you could put your bed closer to the ground and adorn it with crochet blankets and lots of pillows. You could even place a DIY canopy over your bed using lace and other lightweight fabrics. And remember to layer. Layering rugs and blankets will breathe relaxation and comfort.
Moroccan accents
It's very common to see Moroccan accents in a boho-inspired home. Look for items such as a turquoise end table, colorful floor cushions, arched mirrors and carved wood. Anything silver with carvings or etchings speaks to Moroccan style, so keep an eye out for items with these features.
Wall of prints
A wall of mismatched prints is very boho. But make sure that the photographs or artwork you choose have real sentimental value, as this is the cornerstone of bohemian chic décor. At the end of the day, the most important thing about this trend is that it encourages you to place items in your house that bring you joy.
Want more tips and tricks for home décor? Give us a call today!
---
Your Comments