4 Great Online Resources for Outdoor Patio Furniture
If you're in the market for some new outdoor patio furniture, you might find yourself overwhelmed by all the options. Maybe you don't have time to stop at every garage sale and hunt for the hidden treasure, or maybe your fingertips are starting to get sore from scrolling through furniture sites.
Don't worry – we're here to help. Here are 4 great online resources for outdoor patio furniture.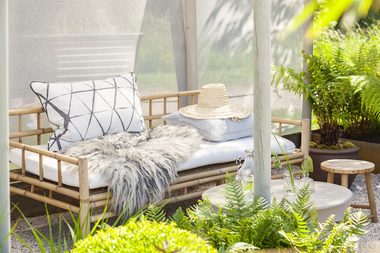 1. Pinterest
Pinterest is so popular for the DIY scene that we almost needn't mention it. You probably have several boards dedicated to outdoor decoration. The problem is that you might not know how to make your fantasy Patio Board and your DIY Patio Furniture Board intersect. Get ideas from your various Pinterest boards and then start looking into DIY projects to customize your patio furniture or you can purchase the items you've saved to boards. Pinterest is great about linking you to discount furniture stores or craft stores you might not have thought of before.
2. Buzzfeed
Buzzfeed also has a great DIY section. Instead of "pinning" the things you like, you can peruse the patio furniture that others have posted to get ideas. Many of the people posting furniture on Buzzfeed are artists or in-the-know writers who know great patio furniture when they see it, so the items you're looking at will be trendy and/or unique pieces that will make a statement.
3. Garage Sale Locators
Are you tired of driving through your neighborhood looking for garage sales? Are you sick of screeching off the road every time you see a yard sale sign? There's a better way shop for gently used patio furniture items. You can check out online forums that list what is being sold at different garage and yard sales.
Here are some great garage and yard sale locating websites we recommend:
But there are plenty of more out there! Just try a simple Google search and see what comes up.
4. 5mile App
Let's say you find the perfect garage or yard sale – one that actually has the kind of patio furniture you're looking for – but it's 50 miles away. It would cost more in gas to get there than it would to buy the furniture. With the 5mile app, you know you're shopping for used items that are reasonably close to you. Better yet, each item is photographed before it's posted, so you get to see the item for yourself before deciding to drive out there and buy it.
What online resources do you use to find great furniture? We'd love to hear from you!
---
Your Comments