6 Creative Ways to Prepare Your Home for Winter
Winter can be a beautiful time of year. Who doesn't love the occasional snowman, hot cocoa, and relaxing by a roaring fire? But, winter weather can also wreak havoc on your home's exterior. However, with a bit of preparation, you can help prevent damage and save on energy bills at the same time.
Before you start adding chores to your "honey do" list, consider these 6 creative and inexpensive ways to prep your home for winter.
#1: Divert Melting Ice and Snow
If over the winter your eaves gather icicles all around them, when the ice melts, you end up with pools of water around the perimeter of your home. That water can seep into your basement if your foundation is unsound.
Go to your local hardware store and buy spout extensions to collect rain and snow and divert it away from the base of your home.
#2: Inspect All Heating Systems
The best time to inspect your heating systems is in the fall before harsh winter weather strikes. If you wait until the next winter storm, you could be waiting for days for service when inspectors and HVAC repair people are at their busiest.
You should inspect both your HVAC heating systems as well as your fireplace, if you have one. By having your fireplace cleaned before winter sets in you could prevent a fire or carbon monoxide poisoning. Hire a professional chimney sweep for a few hundred bucks.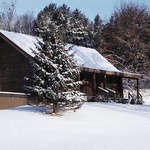 #3: Check the Roof
It's hard to predict how bad each winter is going to be. Just this past winter, Boston residents found themselves snowed in by historic amounts of snowfall so heavy that it collapsed roofs.
Be prepared by making sure that any loose tiles or leaks are and repaired before the precipitation starts to fall.
#4: Caulk Spaces in Doors and Windows
Much energy is wasted over the winter when there are little pockets of air seeping in through tiny gaps in your doors and windows. Get out a caulking gun and walk around your house with a nickel. Wherever you find spaces big enough to fit a nickel in them, caulk them.
#5: Winterize Your Lawn
There is a method to preparing your lawn in the fall so that by spring your grass is healthy and green. The DIY Network shows you how to winterize your lawn in 4 easy steps and for very little money.
They estimate it will only take you half a day to prep your lawn. Fall is the perfect time to do this project. When winter sets it in, it is likely too late.
#6: Prevent Frozen Pipes
Outdoor faucets can burst in extremely cold weather creating huge backups and expensive water damage. A quick and easy way to prevent frozen outdoor pipes is to unhook any hoses from the faucet and then turn off the shut-off-valve.
---
Your Comments