5 Must-Haves on Your Holiday Bar Cart
Preparing for holiday festivities is basically a matter of ensuring that you'll have everything ready for impromptu gatherings or festive cocktail parties. A bar cart is an elegant solution that lets you cater to your guests in style. They've been around forever, and still offer a touch of sophistication and convenience that anyone can pull off.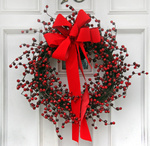 The beauty of a bar cart is that it can be kept at the ready, but tucked out of the way when not in use. Most carts offer two levels of storage, so decorative glassware and bottles might go on top while more utilitarian items could be stowed below. Carts come in all sorts of finishes and materials to incorporate beautifully with your room décor.
The cart itself can be as simple or tricked-out as you like, but it's great to at least have wheels and handles for easy maneuvering. Aside from that, there are some essential things you should include on your cart as well. Here are 5 things you can't do without.
Serving Pieces
This includes wine glasses, cocktail tumblers, decanters, and a wine bucket. These items give your cart its sparkle, and they let you avoid running to the kitchen for the right glass, thus defeating the cool of having a bar cart.
Tools
Make the job of bartender easy and fun with appropriate tools for all sorts of creations. You'll want to include a corkscrew and bottle opener as well as a jigger, shaker, and strainer. Don't forget a good-sized ice bucket and tongs.
The Basics
Any respectable bar will have these libations at hand: vodka, gin, rum, tequila, and whiskey. Of course you may have your own requirements to add. Maybe your bar would not be complete without a small wine rack holding favorite selections.
Mixers
Keep a selection of popular mixers on the cart. These include tonic water, bitters, juices and sodas. While larger bottles are more economical, small ones are more in keeping with the bar cart's portable aesthetic, and also take up less space. A cluttered cart is not Zen.
Bonus Items
Keep a few favorite liquors on hand for occasional use. These could include Campari, vermouth, St. Germain, Bailey's, or your favorite liquor. Displaying these tasty choices also serves to remind you how nice they can be at the end of a long day, and your holiday bar cart can be the staging area for the perfect eggnog.
A thoughtfully stocked bar cart can be fun to have all year, and it's especially handy during the holidays. Guests even enjoy mixing their own drinks from the cart, so you can have more time for other duties or to just relax with your friends and family. Preparation is key to entertaining. A toast to the bar cart!
---
Your Comments