| | |
| --- | --- |
| Hello THE GONEAU GROUP - - We hope you are enjoying our newsletter and find value in the information. Please remember we are always here to help with any of your real estate needs! | |
THE GONEAU GROUP - Kathleen, Shoshana, Natalya, Melissa, Judy, Carmen, and Colin
Real Estate Consultants
Keller Williams Realty
(508) 251-2558
1084 Main Street, Bolton, MA 01740
7 Kitchen Upgrade Ideas That Won't Break the Bank
The average cost for a full kitchen remodel is around $20,000, and of course, that dollar amount changes with the size of the room and types of materials selected. But not everything has to happen all at once or involve multiple zeros in the cost estimate. Today we are going to examine several kitchen remodel ideas that won't break the bank.

A full overhaul of your kitchen breaks down into these cost categories, according to the National Kitchen and Bath Association: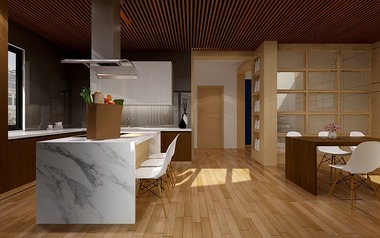 Design fees: 4%.
Installation: 17%.
Appliances and ventilation: 14%.
Cabinetry and hardware: 29%.
Countertops: 10%.
Lighting: 5%.
Flooring: 7%.
Doors and windows: 4%.
Walls and ceilings: 5%.
Faucets and plumbing: 4%.
Other: 1%.

Using this as our baseline, we can maneuver through the remodeling waters safely, and throw your bank account a life preserver.

Begin in the middle. Let's start in the middle of this list with some lighting and flooring options. Keeping with the average cost figure, replacing floors and lights in your kitchen will run approximately $2,400. You can save money by pulling up the floors or removing light fixtures yourself. But do what you feel comfortable with — not all of us are DIY superstars.

Wood floors in kitchens are quite the rage these days. Whether you use actual wood or a woodlike laminate, wood floors can give your kitchen an old-world charm.

LED lighting is an eco-friendly upgrade for kitchen lights. Consider installing them under cabinets for a contemporary feel. They use less energy and reduce your electric bill. Win-win.

Views and portals. Moving on to doors and windows, again keeping with the average cost, you're looking at $800 for replacement. Use this time to upgrade to a new or decorative door, even if it leads to a garage.

Storage revisited. With cabinets tallying 29% of the cost, they are the bulk of the expense. But consider painting or resurfacing as a cost-effective alternative to replacing. Change out pulls and handles to complement your new color scheme and add visual interest.

Walls and ceilings. Ceilings and walls tend to blend in kitchens, but you can make them stand out to change the schematic of your kitchen design. Wallpaper is making a comeback with some vibrant patterns and colors. Look around and see how you could add color or texture through wallpaper or a new paint color.

Go with the flow. Find your inner nerd when it comes to faucet design. A newfangled water flow concept can be heavenly. Plus, most of the new products have water-conserving specifications built into the fixtures. How great is that? Reduce water usage while admiring your new sink accessories.

Mini-model your kitchen for a big difference without the hefty price tag.
---
Your Comments
Saved Articles
Comments and Feedback
Refer A Friend
Your Privacy

The information provided in this email newsletter is for general guidance only, and does not constitute the provision of legal advice, tax and accounting advice, real estate investment advice, or professional consulting of any kind. The information provided herein should not be used as a substitute for consultation with professional real estate, tax, accounting, legal, or other competent advisers. Before making any decision or taking any action, you should consult a professional adviser who has been provided with all pertinent facts relevant to your particular situation. Home value estimate calculators provided herein are general estimations based on publicly available data and should not be used as a substitute for a professional appraisal. The information is provided "as is," with no assurance or guarantee of completeness, accuracy, or timeliness of the information, and without warranty of any kind, express or implied, including but not limited to warranties of performance, merchantability, and fitness for a particular purpose.

Powered by

Copyright © HomeActions, LLC All rights reserved.

This email was sent to: kgoneau@kw.com

Mailing address: 1084 Main Street, Bolton, MA 01740