What to Do with That Powder Room?
A small bathroom with just a sink and a toilet, generally located in the main living space of a home, is typically referred to as a powder room. Unlike a functional bathroom space, this small room is not intended for more than quick, necessary uses. But a powder room may become a practically unusable space in your home if you don't know how to optimize it. Consider the following ways to make your powder room work for your lifestyle.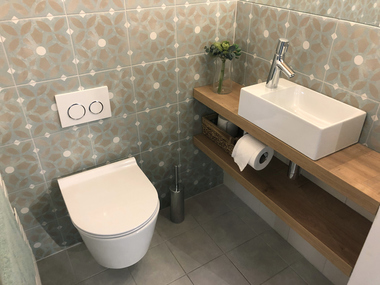 Use Mirrors
Mirrors can open up small spaces, but you need to choose the right mirror for your design aesthetic. Make sure you're using the right scale. Small mirrors can make the space feel closed off. A large mirror over the sink can add depth to the powder room.
Decorate in Contrasting Colors and Materials
You may think you need to keep a small bathroom completely neutral, but that doesn't have to be the case. Contrasting colors and materials can add a pop of interest to an otherwise small room. Try adding bold colors and textures.
Improve Lighting
You may have discovered that most powder rooms have very poor lighting. A single overhead light can make the room feel dark. It doesn't have to be that way. Use brighter lights and install task lighting to make the room more functional.
Go Dramatic
You might think there is no way to incorporate a pattern in a small room. But that's not the case. There are no rules that say you can't use large or colorful patterns in tiny spaces to add visual interest. Choose removable wallpaper, patterned tile or a painting technique to create your design.
Add Storage
The lack of storage is a big complaint people have about most powder rooms. The popular trend of using pedestal sinks in these small spaces offers absolutely no extra storage. Your powder room doesn't have to be entirely nonfunctional. Use the walls and the height of the room to your advantage by installing upper cabinets or shelves to store items you need nearby but want out of the way.
Have you thought about the features you want in your next home? Contact us to learn more today.
---
Your Comments