Planting Bulbs: What's the Right Time?
Flowers are an absolute joy. They provide you with gorgeous curb appeal, bright colors and genuine enjoyment. It's wonderful to see new buds opening just as snow is melting. But when do you plant the bulbs that produce these early spring blooms? That will largely depend on your region, but here is a basic guide to planting bulbs in time for spring.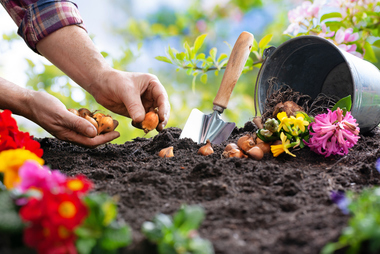 When to plant
Most early spring bulbs, such as daffodils and tulips, should be planted just before the first frost in the fall but after soil temperatures have cooled, which can be anywhere from September to December depending on where you live.
Bulbs that bloom a little later in the season, such as dahlias, should be planted in the spring after the threat of frost is gone. Other bulbs, such as irises, should be planted in the summer or fall.
Depending on what you want to plant, check with your local garden center to learn about the bulbs that thrive in your region and when to plant them.
Types of bulbs
There are bulbs that will bloom throughout the year, depending on your location, so if you want a low-maintenance garden that has color most of the year, you can choose from a number of plants. Some of the most popular are:
Tulips
Daffodils
Crocuses
Irises
Dahlias
Lilies
What you choose will be dependent on your soil, your region and the look you want for your garden.
Care of bulbs
Bulbs tend to be low maintenance. They grow without much help and will continue to flower year after year. But there are some things you can do to ensure that your flowers are happy and healthy.
Water the bulbs after planting. Make sure the bulbs are planted deep, as shallow bulbs can have trouble growing. For the health of the plants, after the flowers wilt, leave the greens until they wither as well. Then you can trim them back. Use mulch in the flower bed where your bulbs are planted. This keeps the soil moist and healthy for the plants. And throughout the year, keep an eye out for pests that could infest and kill the plants.
Do you want the pop of color from bulbs in your yard? Talk to us today.
---
Your Comments