Having Vision
Hello Friends and Neighbors!
One of the difficult parts of house-hunting is having a vision of what could be, instead of what is. I see it all the time: overgrown landscaping, dark rooms, small spaces, outdated decor…these often scare away buyers who can't look past the project. Before you let a good thing pass you by, pause to think of what the AFTER could be.
Walls and trim: dark is out! Nothing updates a room quicker and cheaper than a fresh coat of paint and a new light fixture.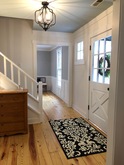 Floors: Dark floors can look elegant in the right setting. They can also show dust and make rooms look smaller. Consider a lighter finish (or even paint) on wood floors to reflect light and open up the space.
Detail: wainscoting, paneling, barn doors…these are all relatively inexpensive details that can really add depth and interest to an otherwise blah room.
Powder room: often the smallest room in the house, this is the place to have fun. You won't have to purchase much in the way of materials, and you can take a risk without changing the whole feel of the home. It's amazing what a pedestal sink and fun mirror can do.
Small space: sometimes you can't increase the size of a room, but you can work with it! This article has some great ideas, like furniture with hidden storage, decorating with mirrors and stripes, and investing in built-in storage.
If you or a friend are about to start the house-hunting process, give me a call. I love sharing my vision of what could be! As always, I appreciate your business and referrals.
All the best,
Meg
---
Your Comments