Resolve to Sell Your Home
Hello Friends and Neighbors!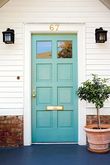 Happy New Year! Out with the old, in with the new, right? This year as you make your resolutions, I encourage you to add improving your living situation to the list. Maybe that means a larger home, a different location or even a downsize. Either way, the first step is selling your current home.
This week's newsletter has a great article on prepping your home for sale (click here to read it) but I'd like to add a few suggestions:
Detail your front door. When buyers are standing at your front door, you want them to see fresh coats of paint, a clean front door and sparkling windows. Peeling paint, cobwebs and dingy old doors will make buyers worry the rest of the house has been neglected as well. Consider a fun new color too—it's very Richmond and adds loads of charm!
Focus on the foyer. Make sure buyers step in to the best version of your foyer. Remove any large furniture so it feels larger, dust light fixtures so it's brighter, and make it as close to scent-free as possible. You want buyers to focus on the house and all of its features, not your personal items.
Declutter and depersonalize! The article covers this but I can't stress it enough. Your house should look more like a catalogue – neutral paint, no family photos, very few objects on furniture and counters. This is hard for most sellers, but the effort will be rewarded in spades. Buyers are not judging your life, they are looking for a blank canvas to imagine their lives there.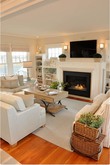 This list can seem daunting, so don't be afraid to outsource a few chores to a professional. I'm happy to refer a grout cleaner, painter or general handyman—just call or email!
All the best,
Meg
---
Your Comments