Bring These 5 Features of a Chef's Kitchen Home
While everyone fantasizes over a true chef-style kitchen, there are some aspects of a real chef's kitchen that you can easily implement in your home — and without breaking the bank.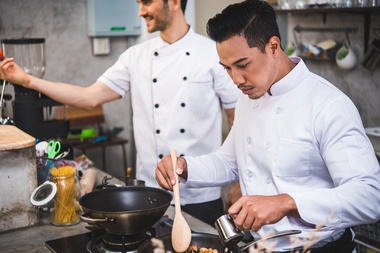 Chef's kitchen feature #1: Wall-mounted racks for your kitchen tools
You will want to keep your knives, spatulas, spoons and other kitchen tools easily accessible, but storing them in ceramic pots or other canisters can waste valuable counter space. Instead, consider installing magnetic racks or convenient, wall-mounted wooden compartments to store your kitchen tools. This also works great for often-needed spices and other small objects.
Chef's kitchen feature #2: Plenty of hidden storage space
If you are a serious chef, you probably own a multitude of kitchen tools. Finding a place to store all of them can be an ongoing challenge, so it is important that your kitchen has enough cabinet and shelf space for all your pots, pans, small appliances and, of course, ingredients for meal prep. Having a hidden place to store all your kitchen gadgets can go a long way toward decluttering the space and making it usable for all your culinary adventures.
Chef's kitchen feature #3: A usable "chef's triangle"
Many experienced cooks will tell you that most of their time in the kitchen is spent going between the sink, trash can and empty counter space (or workspace). Ensuring that it is easy to reach these three key locations can help make your cooking and subsequent cleanup as quick and easy as possible. If you are remodeling your kitchen, keep the chef's triangle in mind when laying out the space.
Chef's kitchen feature #4: Easy-to-use garbage and recycling bins
You will not want to spend a lot of time sorting your refuse, so keeping an easy-to-use trash can, recycling bin and compost pile can drastically reduce your cleanup time. Consider installing permanent bins that are easy to access. This will greatly increase the likelihood that you will take the time to recycle, rather than using the trash can out of sheer convenience. Some top-of-the-line kitchens also include a paper shredder with their kitchen trash can — handy if you have a lot of important documents to discard.
Chef's kitchen feature #5: A sink with 2 or 3 separate basins
If you are considering replacing a single appliance with a more commercial, chef-style version, the sink should be at the top of your list. Having plenty of room to cut, peel and wash vegetables, while also having a spot to dump your dirty dishes, can be a life-changing addition to your kitchen.
Consider taking advantage of these great upgrades during your next kitchen remodel. If you enjoy cooking and spending time in the kitchen, you will not regret adding these chef-style features to your home.
---
Your Comments