| | |
| --- | --- |
| Hello Dan The Real - Real Estate New You Can Use.. | |
Find the Best Contractor for Your Remodel
Finding a contractor can be an overwhelming task. Where do you start? Whom can you trust? There are a dozen or more questions that surround the mission of hiring a professional for your remodeling project.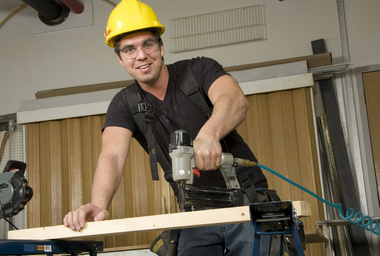 Take solace in knowing you're not alone in your search. Our steps to finding the best contractor are here to help make the journey a little easier.

Finding a contractor

1. Look for yard signs in your neighborhood. Say you're in the market for a bathroom overhaul. The easiest way to begin your search is by paying attention to yard signs around you. If a neighbor is undertaking a similar project, the contractor will likely place a sign in the neighbor's yard. These accomplish two things at once — advertising and providing the contractor's license number for inspectors.

When you happen upon a crew who specialize in your category of home improvement, take down their information and any positive or negative first impressions. With this approach, you get a sneak preview of what the company is like on the job.

Is the site neat and clean, or are there scraps, equipment and trash lying around? Are the crew members making the best use of their time? Is a supervisor on the job site?

2. Ask for referrals from trusted friends or family members. Word of mouth is the best form of advertising, and quality contractors carry out their responsibilities with the goal of earning a positive testimonial.

For homeowners who prefer the digital referral system, sites like Angie's List and Contractor Connection will point you in the right direction. Read through the comments and testimonials to get a feel for the quality and reliability of the company.

Researching your prospective contractor

1. Begin with looking up whether or not they hold a state license. You can enter "contractor license look-up for _______" in your web browser to find relevant databases. Most states publish lists of their card-carrying license holders. Hopefully, yours is one of those states.

2. Along with state documentation, there is a professional association for remodeling contractors. The National Association of the Remodeling Industry (NARI) is an industry network of contractors with 52 chapters in 49 states. Their website, nari.org, has a look-up function based on ZIP code, specialty and company name.

Keep in mind that not every town will have a member representative.

3. Conduct an in-person interview. When you arrive at the interview portion of the preliminaries, you're well on your way to making a decision. Ask questions regarding weather policies, payment expectations, warranties, schedule estimates and procedures in the event of an overrun.

Every remodeling project is different, but a qualified contractor should be able to give you an educated guess on timetables and the final cash investment.
---
Your Comments
Dan The Real Estate Man
REALTOR®
(562) 618-4993
DanSellsRealEstate@gMail.Com
Century 21 Classic Estates
13217 South St.
Cerritos, CA 90703
Saved Articles
Comments and Feedback
Refer A Friend
Your Privacy

The information provided in this email newsletter is for general guidance only, and does not constitute the provision of legal advice, tax and accounting advice, real estate investment advice, or professional consulting of any kind. The information provided herein should not be used as a substitute for consultation with professional real estate, tax, accounting, legal, or other competent advisers. Before making any decision or taking any action, you should consult a professional adviser who has been provided with all pertinent facts relevant to your particular situation. Home value estimate calculators provided herein are general estimations based on publicly available data and should not be used as a substitute for a professional appraisal. The information is provided "as is," with no assurance or guarantee of completeness, accuracy, or timeliness of the information, and without warranty of any kind, express or implied, including but not limited to warranties of performance, merchantability, and fitness for a particular purpose.

Powered by

Copyright © HomeActions, LLC All rights reserved.

This email was sent to: dansellsrealestate@gmail.com

Mailing address: