| | |
| --- | --- |
| Hello Dan The Real - Real Estate New You Can Use.. | |
6 Ways to Make Your Home Gym More Inspiring
For many, resistance is more than an elastic band used to build muscle. It's a very real force that keeps us stationary and out of the gym. During this time of inertia, resistance gets stronger, and we get softer, in the literal sense.

A good solution to the home gym struggle? Add a little inspiration. Here are some popular ways to make your home gym more inspiring.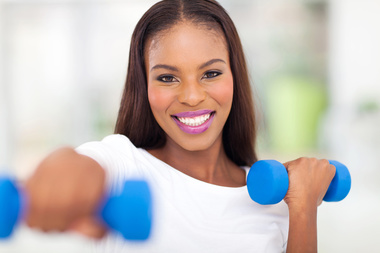 1. Change your perspective from the equipment. If your view from the seat of the stationary bike or treadmill has been the same since you set up your gym, move the machinery, or weights, around the room to form a new arrangement. This undertaking might be a hassle, but so is shopping for bigger pants.

2. Add a view of some sort. Even if you have a window or glass wall to gaze at, a new focal point will keep your eyes and mind occupied. This tactic is especially poignant for those of you training for a race or event. Find a picture of a finish line or your upcoming race route and use that image to keep you motivated throughout your workout.

3. Create a new soundtrack to accompany you during your workout routine. Recycle some old classics or ask your friends for new suggestions. Music can get the blood pumping or help settle you into a new routine. Either way, music is an outside stimulus that can inspire you to reach beyond your comfort zone or get you back in the habit of exercising.

4. Phone a friend for some company and accountability. Make a date with a workout partner and stick to it. This strategy is especially powerful when your friend is at a fitness level that you seek to attain. Conversations flow, ideas are exchanged and the time quickly passes with your buddy on board. Plus, their new energy livens up your workout zone.

5. Shake your tail feathers! Exercise doesn't have to occur on a machine that counts calories or output levels. Get back to basics and dance your way into a new groove. Dance is fun, freeing and expressive. It also gets you in touch with your body through muscle control and balance. Plus, as the saying goes, "Dance like nobody's watching," and here's your chance.

6. Get visual with inspirational videos or training sessions. YouTube has millions of fitness videos you can use as prompts or inspiration to reach new levels. Take your pick from all the yoga, Pilates and Zumba options available online. It's free, so if you try it and hate it, all you will have lost is a few minutes of your time.
Use these tips when revamping your home gym; doing so will give you a whole new perspective on the way you exercise.
---
Your Comments
Dan The Real Estate Man
REALTOR®
(562) 618-4993
DanSellsRealEstate@gMail.Com
Century 21 Classic Estates
13217 South St.
Cerritos, CA 90703
Saved Articles
Comments and Feedback
Refer A Friend
Your Privacy

The information provided in this email newsletter is for general guidance only, and does not constitute the provision of legal advice, tax and accounting advice, real estate investment advice, or professional consulting of any kind. The information provided herein should not be used as a substitute for consultation with professional real estate, tax, accounting, legal, or other competent advisers. Before making any decision or taking any action, you should consult a professional adviser who has been provided with all pertinent facts relevant to your particular situation. Home value estimate calculators provided herein are general estimations based on publicly available data and should not be used as a substitute for a professional appraisal. The information is provided "as is," with no assurance or guarantee of completeness, accuracy, or timeliness of the information, and without warranty of any kind, express or implied, including but not limited to warranties of performance, merchantability, and fitness for a particular purpose.

Powered by

Copyright © HomeActions, LLC All rights reserved.

This email was sent to: dansellsrealestate@gmail.com

Mailing address: