The Ink-credible Misadventures of Jocelyn Zemach
Which of the following statements about The Payroll Department's newest processor is true? A.) Jocelyn Zemach was a producer for The Moth-Up storytelling podcast. B.) She has injected amphetamines into mice. C.) She has performed standup comedy in Montenegro.
The correct answer is: all of the above.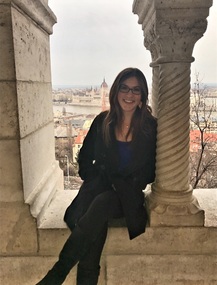 Jocelyn's work for four years as a producer on these storytelling performances stemmed from her lifelong passion for books. She especially enjoys fantasies and magical realism along the lines of author Donna Tart.
This passion transfers directly to her unique contribution to PDI's quirky office environment. Every Friday, Jocelyn sends her coworkers a short story in the hopes it brightens someone's day.
"I do think it's a space where people do need a little fun, a little bit of humor," she says of the PDI office, which can get pretty hectic and stressful.
Jocelyn is also an avid writer. She pens plenty of her own short, fantasy stories. Her brother once gave her one of the best gifts she's ever received: a palm-sized, leather notebook with a whip-out pen. "I'm one of those people where if I get an idea for a story, I whip it out and I write it down! I always have it with me. Everyone always thinks I'm writing checks."
Not surprisingly, Jocelyn has been known to send funny limericks or short stories to her coworkers to blow the steam off a tough day. She even challenges her colleagues to respond with their own limerick.
You'd be forgiven for assuming that Jocelyn was a writing or literature major in college. In fact, she studied computer science and neuroscience, which explains how she was inspired to research the effects of amphetamines on a colony of mice to investigate implications for genetic research.
"I love the analytical side of the science," she notes. Those calculating capabilities are what spurred Jocelyn to apply to be a payroll processor.
When the pandemic hit, Jocelyn explains, "I had a year of isolation lockdown and I was trying to figure out what I wanted to do. And then one of my friends saw the ad [for the payroll processor]. She was like: They want someone analytical!"
Jocelyn investigated the company further and openly laughed when she saw their website featured a lot of outdoor adventure pictures of whitewater rafting, mountain biking, and more. That imagery did not at all match her concept of payroll processing.
"I submitted what I thought was a super sarcastic and funny application. Then the next thing you know, I got a call from Jessie [Christiansen] saying: Hey! Come in for an interview!"
Straight away, Jocelyn relished the quick pace and steep learning curve. The job afforded her the kind of pressure she thrives on. "I learn fast and I'm quick on my feet and really just enjoy the numbers behind it."
Not coincidentally, that kind of pressure lured Jocelyn onto a live comedy stage in the Balkans. At the time, she was on a study abroad program in college, living in Prague and traveling across as much of the European continent as time would allow. She stumbled upon a comedy club in Montenegro offering the mic to any audience member daring enough to try standup.
"I did it specifically because my Slavic is terrible and I knew absolutely no one there," Jocelyn says. She goes on to note, "I very much enjoy being either wildly comfortable or wildly uncomfortable."
These competing urges contribute to Jocelyn's tendencies either to cuddle up (with a book or a podcast or a binge-worthy TV series) OR strike out for adventure.
"I'm a nomad. I go everywhere," she confesses. "It's my favorite thing to do just little solo trips. I will pick a town. I will pick a place to stay and honestly do little research. Then I'll go there and I'll try to find someone friendly and ask them where should I go? And I've had the best experiences just doing that!"
Jocelyn's wanderings may also take her ice climbing or on long, rugged hikes with her dog, the one, the only Mr. Jethro, or Jet.
In addition to payroll processing's juicy challenges, Jocelyn also discovered the work was so much more meaningful than she ever expected.
She says, "I really enjoy knowing that my work makes a profound difference on a macro scale. Because of me and because of this company, most people in this area can count on us to get paid. That is something I take a lot of pride in. And I think everyone there does. Like no matter how trudging this business can be, at the end of the day, a hard-working person gets to go out and have or spend their well-earned money."
Now that you know Jocelyn a little better, which of these statements would you guess is true? A.) Jocelyn spent three days pub-crawling across Dublin. B.) She once wielded laser beams to cut jigsaw puzzles. C.) The best stories--like the best people--are made of detours, subplots, and misadventures.
---
Your Comments