A Home Where the Buffalo Roam: Meet Tim Dionne
Tim Dionne trekked across Utah's remote Henry Mountains. Suddenly, the invisible needle of his inner compass urged him to take a detour. Although renowned for its wayward directions, that inner compass had never let him down before. So Tim obeyed its haphazard tug.
Millions of years ago, gooey diorite in the planet's core took a similar detour when it lurched up through the Earth's crust. There it formed mighty domes, or laccoliths. These glittering, black-and-white speckled domes crown the Henry range.

Tim Dionne loves meandering Colorado's and and Utah's mountains.
As Tim crested a diorite ridge, his nostrils snagged on a sharp scent. Musky. Animal. Wild.
He paused, wondering if he'd been unwise. Typically, in the past, his whimsical compass had always reliably guided him to unusual, exciting, and rewarding job opportunities.
"Believe it or not," Tim confides, "education and teaching was my first profession. I was a high school history teacher. I just loved influencing the lives of young adults. I mean, I was challenged at that age." He chuckles ruefully. "Oh yeah, I've made my share of mistakes."
Later, Tim got into recreational management. Having grown up in Maine, Tim's athletic life wrapped around hockey, so when a hockey rink directorship opened up, he leapt at the chance. Who cared that he had no experience?
He advanced from directing the hockey activities to directing all events at the rink, which included everything from rock concerts to WWF wrestling. Eventually, Tim's compass detoured him into a quirky summer job leading corporate team building activities at a scenic, high-end New York resort.
The summer stint quickly evolved into a full-time gig coaching the NHL or Nike executives on good listenership and goal-setting. "It was very empowering working at that resort," Tim recalls.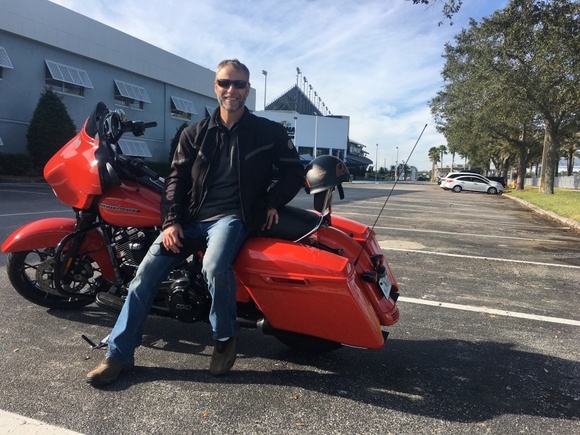 Tim always seeks enriching challenges and some high-octane fun.
With his compass leading the way, Tim enjoyed diverse experiences and hobbies. "Career has never really driven me. Even at an early age, I wasn't like: Oh yeah! This is what I'm doing!" he explains. "Instead, I would chase opportunities that I felt were challenging. That I felt would be fulfilling and that I would enjoy. I wanted to have some sense of: hey, this is worth it."
However, even the best compass does not always steer a person around misfortune. Light needs dark the same way lotuses need mud to blossom. In the wake of a devastating divorce, Tim felt unsure of who he was and where he was headed. And so, following pattern, he let go of the invisible steering wheel routing his course.
"Control is never something I think of or assume I can get. It's influence that we have. We never control anything. It's always: what can I influence?"
Tim's ability to relinquish control and go with the flow is more than a personality trait. It's also an expression of his spirituality. He notes, "Faith's a big part of my life. It forces you to recognize two things. One: live in the present. Don't be so worried about the future because you're not there. And you don't have control. And, two, life is not fair. My mom always told me that from a very young age."
With the divorce finalized, Tim's compass practically torpedoed him across the country. He knew he needed to reach the Southwest. As he explains it, "The only way I'm going to get my head back into the game and really back into some semblance of myself is to completely drop everything and reinvent me. So I sold everything that wasn't important to me, packed up my truck with my dog, and my mountain bike and climbing gear."
Now working as a Payroll Specialist at the Payroll Department, Inc., Tim revels in the meaningful connections he can forge with clients. "Two things I really pride myself on having and that I think are good skill-sets for me are being genuine and observant. I think I'm genuine with my word, genuine with my actions, genuine with my intent. But I'm also very observant. So I'm able to pick up on things relatively quickly."
Tim has been especially quick to observe how exceptional payroll processing results in higher quality interactions between businesses and the community. That is, the more he can help a small business owner simplify workflows, the more that entrepreneur can focus on what he or she loves and does best. When a business is not distracted with its payroll, it is freed up to offer exceptional services and products.
"No worries, no regrets," Tim sums up what may be his philosophy on payroll services, life, as well as the mystical element directing his inner compass.
Out in the Henry Mountains, that compass proved trustworthy yet again. Tim topped the ridge and discovered the wild animals he'd scented: an enormous bison herd. He'd actually stumbled upon the only free-roaming herd in the contiguous 48 states. Descendants of Yellowstone's bison, these bison had been transplanted to the Southwest just like Tim. Also like him, they'd survived by following the invisible tug and pull of instinct. And like him, they roamed their new home fearlessly free.
---
Your Comments