Lucky Breaks: Meet Danielle Zambeck
"Give me a sign!" Danielle Zambeck broadcast the urgent thought across the universe as she drove the winding road between Pagosa Springs and Durango. Bailey, her very travel-anxious dog, panted in the passenger seat. Together, they'd recently abandoned the Hollywood scene in L.A. with a vague plan to "drive around" the country. However, car-life was taking its toll on Bailey's health. Danielle pressured the gas pedal. Minutes later, the car died.
"I take my woo-woo with a grain of salt, but I still like it," Danielle explains. She sensed that somehow her car's death was an indication to stick around. She arrived in Durango and took up the usual multiple part-time job tango.
Throughout her life, Danielle experienced many powerful moments of serendipity. Were they all happenstance or dumb luck? Was it all quantum mechanics probabilities playing out in her favor? Was it a higher power?
Years back when she first arrived to L.A., Danielle received an astrology reading. A generous friend had gifted her the expensive session to help her successfully navigate life in a vast city where she knew no one except her boyfriend.
"This woman is a prophet!" Danielle recalls her reaction. The astrologer knew her entire life story. "She nailed days and times!"
The astrologer also made several chilling predictions. When the session ended, Danielle received a recorded copy of the reading. She went home, stashed the recording who knew where, and forgot about it as life swiftly unfolded.
At one point, while at home recuperating her broken foot booted in a cast, Danielle rediscovered the recording. She played it and sat agog. Everything that happened to her in L.A. had been foretold to her. She cringed when she heard the astrologer's warning to protect her feet.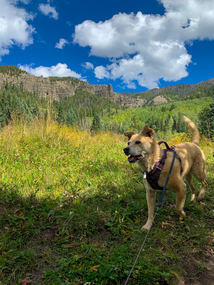 Imagine all the mistakes she could have dodged…all the grass-is-greener roads she could have taken—had she just remembered the astrologer's predictions! Nonetheless, Danielle did not need a prophet's advice to know her time in the glamorous city was done. She had outgrown it like an old shoe.
While there, she'd worked her way from nanny to personal assistant to project coordinator at a busy Hollywood production studio. She'd nabbed a coveted bungalow off Venice Beach, mere footsteps from the ocean. She'd made friends, adopted Bailey, and learned to surf. She also survived burglary, identity theft, a stinging break-up, and so much more. Her bucket list was complete but her spirit was tapped.
Danielle deliberately set off without a plan. Growing up, she'd always felt tugged between two personas. "I'm really good at numbers and finance and organizing everything, but I've always pushed against it. Like: no!"
In other words, she possessed natural "Office Jane" talents, but what she preferred were her "Indiana Jane" adventures. She preferred the spontaneous and the outdoors. Therefore, when she left L.A., she wanted Indiana Jane in the driver's seat.
At first, life in Durango was everything an Indiana Jane would want: Trails! Mountains! Mountain bikes! Camping! Hiking! As Danielle puts it, "Colorado is walking around in a Bob Ross painting. All the time."
Unfortunately, working multiple jobs for long hours and little pay zapped the energy Danielle needed to enjoy these treats. She told a few new friends she needed a full-time gig, then she went to the Dharma Center to meditate. A couple hours later, she had several text messages, each one with a link to a job opening at The Payroll Department, Inc.
"It's such a great company," Danielle attests. "They are so focused on taking care of everyone. Not just the clients, but the people running the show."
Danielle began the new job just as pandemic lockdowns began to cinch tight on daily life. "The pandemic came at a good time for me," Danielle admits. "I really needed life to slow down and self-reflect." She applied what she called a "hyper-focus" to her new job, learned the workflows and systems, and built a solid foundation for her life.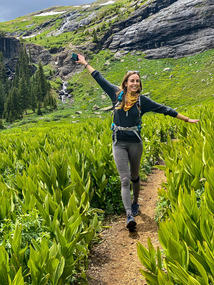 "This job is therapeutic to me," Danielle laughs. "Now I've found something that puts my OCD to work and then I can play and relax and enjoy my life." In other words, her Office and Indiana Janes are at peace.
She goes on to say, "When I'm not outside, I'm hangin' with this awesome crew and we are helping people get paid and get loans to get through this tough time. I think that's doing something beautiful and purposeful. I don't think you could ask for anything better. I truly feel like I won the lottery."
---
Your Comments