Detective Digit: Meet Robbin Shackelton
"You've got the NASA control center in here," Terry remarked of the three computer monitors, cables, paper stacks, and a ringing phone newly occupying the home office. Robbin Shackelton leveled her gaze at her husband over the monitors. She had no sooner laughed off the comment than she was deeply immersed in her work once more. She was an inspector with a mystery to solve, and she had the test results to prove it.
All detectives have a favorite tool they use to solve a mystery. Joe Friday wanted just the facts. Sherlock Holmes leaned on deduction. Philip Marlowe, Miss Marple, Sam Spade, Nancy Drew—each one's crack-the-case tool was distinct. For Robbin, newest processor at the Payroll Department, Inc., numbers unlock any problem.
"I really love numbers," Robbin explains. "Numbers don't lie. They're black and white."
When a Myers & Briggs personality test indicated Robbin was an "inspector/task manager," she was not in the least surprised. It certainly explained how she'd been a successful dispatcher for police, fire fighters, and city crews many years ago.
"I'm more of a just-the-facts person," she says. "Accounting has always been my first love."
Not surprisingly, joining the PDI team in November 2019 made for a perfect fit. "I love it there. It's such a good team," Robbin beams. "Everybody is there to support each other. And we're all there for the same purpose and that's to keep our clients happy. And we really enjoy working with each other. I hope to finish out my work career there…if they'll have me!" she chuckles.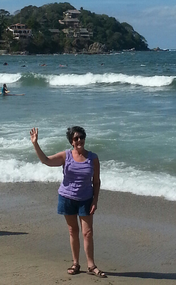 Robbin loves to travel, especially to the
scenic seaside in Sayulita, Mexico.
Once upon a time, Robbin lived in Oklahoma. She married a man who worked for the boom and bust oil industry. A chance vacation to Durango prompted the couple to abandon Tornado Alley for the Colorado outdoor paradise in the early 1990s. Robbin would go on to work for other local companies, always crunching numbers. She would also happily remarry.
When the coronavirus upended reality, Robbin dreaded the mandatory work-from-home shift. As the newest team member, she did not want to lose out on the workplace camaraderie. Also, she did not fully know her way around all the systems. How could she navigate unfamiliar digital territory remotely? How could she be productive with a husband and dog distracting her?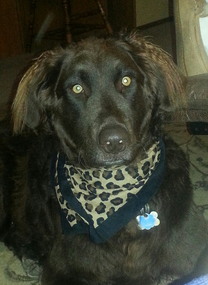 Stella, a Chesapeake Bay-Labrador mix
is always ready for fetch or a river swim.
As it happens, working from home is in Robbin's wheelhouse. Terry often jokes how robbers could lounge around the house and she would not notice once she's "in the zone."
"I just stay really focused," Robbin notes. "I think having that designated workspace is really crucial. If I was at my kitchen table, I would be so distracted."
When she's not engrossed with numbers, Robbin also enjoys reading cozy mysteries. She also gets the dog, Stella, out for plenty of river time and fetch. She loves to garden, although the soil around her house is not garden-friendly. Friends in the know always bring Robbin extra zucchini, which she transforms into her sweet-hot, kick-ass zucchini relish.
How good is it? Her UPS delivery guy paid her to make him a whole case!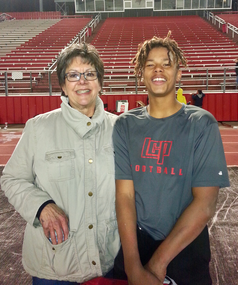 Before the pandemic, Robbin enjoyed a visit to Texas
to see her grandson, Jakson, play football.
Despite all these events, Robbin realizes the world is not yet right side up. If anything, it's only easing into a more comfortable kind of sideways. As you might expect, numbers see her through. She counts down 150 lunges every morning. She counts on her coworker, LaShell, for a daily laugh. She counts on the hummingbirds swooping around the feeders to give her a moment of zen. Like any great detective, Robbin has solved the mystery of sanity-survival in a global pandemic.
"I used to always kind of gripe a little about I never get any time alone. The only time I get alone is when I'm in the car," Robbin says. "And now I've had plenty of alone time and really…I'm finding I enjoy it. But," she laughs, "I'll be ready to go back."
Feature Image by Gerd Altmann from Pixabay.
---
Your Comments