Jodie Mahnesmith's Stable Insights
Jodie Mahnesmith has unique eyes. First off, her eyes can hear. At the sight of a single gesture—a head tilt or ear turn—Jodie comprehends an entire, nonverbal conversation. Second, her eyes feel. They sense ambition, impatience, talent, and pluck. Finally, her eyes detect invisible treasures, such as a million dollars in a rural stable.
Jodie joined the Payroll Department Inc.'s team last October. She developed her incredible vision through a lifetime spent raising horses. Her family has long been steeped in equestrianism. As a result, Jodie's passion and knowledge are vast.
"Being a prey animal, in the wild, [horses] really depend on each other for survival," she explains, "That's where the nonverbal communication comes in. Too much [noise] attracts predators."
This nonverbal communication manifests in myriad ways. A horse may nod its head to say, "Come here. Come closer, please."
Jodie's five-year-old mare, Frisky, does exactly this when Jodie stands far away. Frisky's coat is beach sand tan. Her long tail and braided mane are as pale as jicama. She's just had a bath and the expression on her face clearly declares, "Aren't I magnificent?"
"She tends to really put her ears back more than other horses," Jodie says, describing more of Frisky's communication tactics. "She's been doing it since she was born. If she's a little annoyed about something…."
As if on cue, Frisky twists her ears back like a cat. Rightfully so with dinnertime partially delayed. Jodie strokes Frisky's head. "She's got more personality than I've ever seen in a horse. She knows how beautiful she is."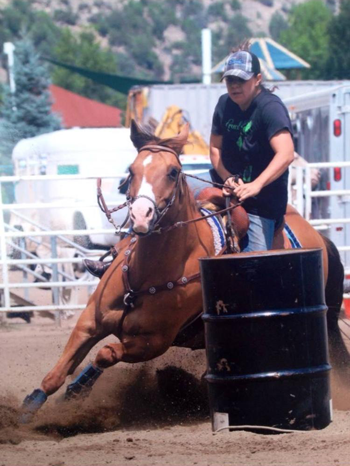 At one point, Jodie managed and trained nearly a dozen horses. Pursuing full-time work required cutting back. Until a few weeks ago, she cared for Frisky and Kingpin Kenny. 19-year-old Kenny passed away when he could not overcome a respiratory infection. Frisky contracted the same infection. Luckily, she now has only a slight runny nose. Once fully recovered, she will resume a more rigorous training regimen.
Jodie pats the horse's muscular flank. "She needs lots of exercise to get back in shape."
Intensely physical, naturally athletic creatures, horses can plump up fast when sedentary. They need plenty of daily exercise, which is why Jodie makes a daily double trip to the barn every morning and evening.
"I wouldn't know what to do if I didn't spend time with them," she laughs.
Soon, she and Frisky will resume barrel racing. In this whip-neck sport, rider and horse must ride a tight cloverleaf pattern around upright barrels spaced across an arena. Jodie has always competed with her horses because the training teaches both horse and rider crucial communication and teamwork skills and because it's huge fun!
The best competitors can accumulate prize winnings which defray the huge expenses associated with owning a horse. But in Frisky, Jodie sees a greater opportunity.
"Have you ever heard of the American Rodeo?" Jodie asks. She explains how at that premier competition, amateurs take on professionals for the chance to win a million dollars. With a nod to Frisky, she says, "She's definitely talented enough…I think about it a lot. There's certain horses where you walk into the barn and you just know there's greatness there. And she could definitely be one of those horses."
However, Frisky's championship chances hinge on her own capacity to rein in her willful personality; her willingness to listen to and accept Jodie's guidance; her desire to be a teammate.
According to Jodie, horses learn signals from the rider that primarily involve releasing pressure. To demonstrate, Jodie presses on Frisky's body. The horse leans in, pushing back at Jodie—a normal response no matter the species. Next, Jodie releases the pressure and the horse takes several retreating sideways steps.
In another example, Jodie stands directly in front of Frisky. She steps forward, as if to crowd the animal's space. Frisky lifts her head, indicating she is alert and curious, but she otherwise holds her ground. Then Jodie takes a step back. At the release of the spatial pressure, the horse also backs away.
Jodie points out, "You definitely learn a lot about yourself when you train horses." She goes on to say how training horses has had a profound effect on how she behaves. First, it's gifted her immeasurable patience. She isn't impulsive, preferring to consider all factors with emotional control. And she's learned how to develop relationships that foster trust. The horse must trust its trainer. Jodie parlays all that attentiveness, intuition, and care into her relationships with coworkers and clients at the Payroll Department Inc.
Looking through Frisky's eyes, Jodie appears poised and joyful with potential unbridled.
(Image above features Jodie and Kingpin Kenny.)
---
Your Comments