Banished and Blessed: LaShell Jackson's Amazing Journey
"Here's your bus ticket," Dad said to LaShell.
She took the thick paper strip from him. It was a one-way journey. No return. Dad's face set, stern and serious. He was not going to let her stay in the small Texas town. At age 19, was she to be banished, cast out to some remote Colorado outpost called…Durango?
Despite seeming cruel, LaShell's dad acted out of a deep love for his daughter. She was hanging out with the wrong crowd and her life just wasn't blossoming in that way all parents want for their children. So, LaShell went far away to stay with trusted family friends.
She got a job at the old K-Mart in the mall. Seven months later, she met a guy. They dated. Then they married. Along came two sons. Along came a full life. While her husband ran his own mobile mechanic business, LaShell worked as a bookkeeper and processed income taxes. She regularly freelanced at some new upstart payroll processing company called The Payroll Department.
"The office was tiny," LaShell recalls. Over a decade later, she would run a propane company's front office while the boys grew up and moved out of the house.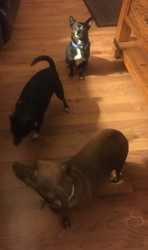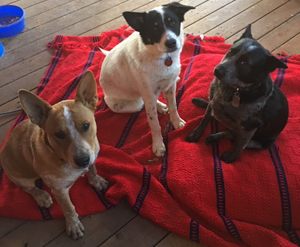 When the children moved out, the dogs moved in.
And then came that moment…that benchmark in the lives of so many hardworking adults when all the usual routines lose their allure. The old excitement dries up. You're in a rut and, before you know it, you get that unexpected glance from an old acquaintance. Being noticed…like that…for the first time in years. It was understandably intoxicating for LaShell.
She was smitten. When offered the chance to make a change, she accepted and began working full-time for The Payroll Department. The young upstart in the tiny office had since grown into the top payroll processor for the Four Corners region by genuinely caring about and investing in the well-being of its clients, its community, and its employees.
"It's so funny the way things come full circle, you know?" LaShell muses. "The first month that I was at The Payroll Department, I could feel like this release. Like I can actually breathe. And everyone is so supportive. You don't find that at a lot of jobs. You really don't."
She goes on to praise how all the back-up planning built into the company's structure allows for the most seamless customer service she has ever seen. All staff answer the phone and can access each other's email inboxes so that a vacation or head cold doesn't delay getting a client's question answered. As LaShell sees it, the unanticipated result is a very inviting work environment where the employees do not stress because everyone has everyone's back.
At the end of each work day, LaShell celebrates knowing the work will not follow her home or keep her all night with worry. She is truly able to enjoy her many hobbies—cross-stitching, diamond painting, glamorizing deer and cow skulls. She spoils the dogs—Furiosa, Lulu, Willie, Kimber, Django, and Augustus. She and her husband go out on regular date nights—they've never outgrown their wild, young love. And she checks in on her boys—both in their 20s, working good jobs, and both always eager to send their mother the La Plata County Humane Society updates on adorable, adoptable dogs.
"They know what a guppy I am," she grins and shakes her head.
And when it's time to wake up and return to her job? "I get up and I'm like, let's go!" She says with a fist-pump. "I feel like…a little blessed being there. I think I can stay here until I retire."
LaShell often thinks back to that fateful bus ticket and wonders what would have happened; how might her life be now if she had refused to leave? She says, "People always say if you could go back in your life, would you change it? Maybe you would but then again…I wouldn't be here if I went back and changed something. It all worked out the way it needed to."
---
Your Comments