What to Look For When Choosing A Gardening Service
Finding a company with an excellent reputation and experience maintaining and improving gardens is essential for getting the work you need done with professionalism and consistency.
Here are some seven items to consider when choosing a gardening service:
1. Methods
Every service provider will use different techniques and methods to take care of the lawn and plants. Inquire about the types of products use, fertilization methods, ecofriendly practices and techniques the company adheres to so you have a good understanding about their approach.
Does the firm have expertise only in landscaping, or can they handle your hardscaping needs, such as outdoor kitchen and pool maintenance? Do they offer other services that might preserve or improve your property's outdoor spaces? What about interior plant maintenance?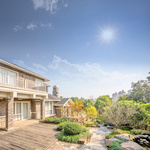 2. Comprehensive Property Inspection
Most service providers offer complimentary inspections and service estimates so that you can compare costs. Steer clear of companies that quote you service fees over the phone.
Set up visits with each provider to walk them through the entire outdoor space and review their recommendations in detail. A comprehensive property inspection will give you a fair idea of any problem areas and issues that may need to be resolved before the maintenance period.
3. Multi-Property Management
Does the company offer packages or bundled services to take care of multiple properties you own? Working with a provider that can take care of all of your properties can be a smart move. You can set up a rotation schedule of services for each property by the same provider for consistency.
4. Services When You're Away
If you spend weeks or months away from home, you need a service provider you can trust to take care of the property in your absence. Look for someone who can provide you, or your housekeeping staff, with regular status reports.
5. Guarantees
Some companies offer a guarantee of services and will be willing to extend a refund if you are not satisfied with their services at any time.
Others may have you sign a waiver or other agreement stating that all work is performed in good faith and that the service provider is not liable for any issues with soil or foliage.
6. References
References and testimonials can speak to the service provider's work ethic, quality of service and timeliness.
Ask for at least three current customer references. Contacting references can help you determine which lawn care service provider is the best match for your property and needs.
7. Trustworthiness
You'll want to be confident you can trust the service and its employees when they're on your property. Ask each service how it checks employees' backgrounds.
Ensure the company carries sufficient workers' compensation, performance bonds and liability insurances. Any company doing hardscaping should have a home improvement contractor's license.
---
Your Comments