| | |
| --- | --- |
| Hello Nunzia - Here Are Your Articles for Thursday, January 03, 2019 | |
Nunzia Alvergue
REALTOR®
(561) 376-4921
nunzia.realtor1@gmail.com
One Sotheby's International Realty
South Florida, USA
Children's Rooms Through the Years
Here are some tips on changing room decorations over the years.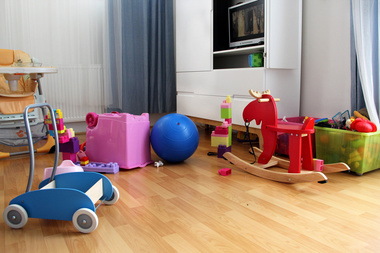 Nursery
The key to longevity is keeping the essentials basic (e.g., beds, dressers, side tables) and decorating with temporary things. For example: White or mint-colored walls provide a basic pastel backdrop; you can then swap out knickknacks, wall photos and mobiles as your child grows up.

You can choose a theme or add a few prints and patterns in places, such as with the bed linens.

Keep colors gender neutral so your children can vary how masculine and feminine they want to decorate as they grow up, or easily swap rooms with a sibling.

Monochrome themes are sleek, but make it interesting with varied textures, wood accents and fun wallpapers.

Storage boxes are a must for storing baby care supplies and, later, toys. Consider buying a vintage or secondhand dresser for decorative storage.
Child's room
Involve your child: Bring in his or her favorite colors, hobbies and inspirations! Think of how to incorporate travels, comics, celebrity role models and your kid's dreams.

Swap out baby accessories for items for older kids.

Keep things simple; kids love to change their minds, so let their decorations bring the color and texture to the room.

Removable wall stickers let your kid change the walls easily and inexpensively.

A bedside light will let a child read before going to sleep and help him or her find the bathroom in the middle of the night.

Drape some string lights across the room for a cozy look.

When there are multiple kids to a room, keep the walls and furniture simple to reduce visual clutter; bring out each person's distinct personality but aim for complementary designs.

Storage is a must: Keep it at the edge of the room and leave space in the center for play. To encourage kids' tidiness, ensure storage is nearby and at their height.

Here are some fun features most kids love: a blackboard wall, a loft bedroom (if possible) or glow-in-the-dark painted stars on the ceiling.

Let your kids help out in the decorating; afterwards, they'll love their rooms!
Teen's room
A desk is a necessity for studying, as well as a place to spend free time online.

Storage is still essential, so make sure it's something he or she wants to use.

Give your teen display space for pictures, postcards and collections — peel-and-stick cork is inexpensive and easy to use.
Personal space is important, so let your teen decorate after you install the basic furniture.
---
Your Comments
Saved Articles
Comments and Feedback
Refer A Friend
Your Privacy

The information provided in this email newsletter is for general guidance only, and does not constitute the provision of legal advice, tax and accounting advice, real estate investment advice, or professional consulting of any kind. The information provided herein should not be used as a substitute for consultation with professional real estate, tax, accounting, legal, or other competent advisers. Before making any decision or taking any action, you should consult a professional adviser who has been provided with all pertinent facts relevant to your particular situation. Home value estimate calculators provided herein are general estimations based on publicly available data and should not be used as a substitute for a professional appraisal. The information is provided "as is," with no assurance or guarantee of completeness, accuracy, or timeliness of the information, and without warranty of any kind, express or implied, including but not limited to warranties of performance, merchantability, and fitness for a particular purpose.

Powered by

Copyright © HomeActions, LLC All rights reserved.

This email was sent to: nunzia.realtor1@gmail.com

Mailing address: One Sotheby's International Realty, South Florida, USA,