4 Reasons to Keep Baking Soda Around the House
It's 2017. Most people, by now, know that baking soda isn't just for baking: It's also a fantastic fridge deodorizer. (If you didn't know that, rename the title of this article "6 Reasons to Keep Baking Soda Around the House.")
But did you know that baking soda has about a bazillion other uses? To save us both some time, we narrowed down the uses we focus on to just four.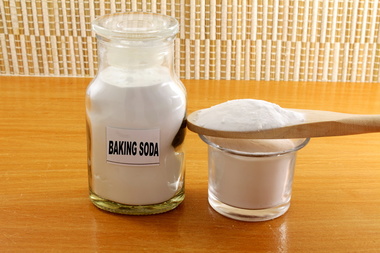 Here they are, in all their glory.
1. Use Baking Soda as Toothpaste
We know, we know – putting powdery baking soda straight into your mouth sounds like one of the least appealing things, ever. Hear us out: Just dip the tip of your toothbrush bristles into some baking soda, and start brushing those soon-to-be pearly whites. Baking soda whitens and brightens your smile like crazy.
If you're really having a hard time stomaching the flavor, you can always drop a bit of mint into your baking soda for something a little more toothpaste-like.
2. Use Baking Soda to Soothe Your Skin
Ever been stung by a bee or a wasp? There aren't many things that hurt like that hurts.
Baking soda can actually relieve the pain from stings. Take out the stinger first, and then apply a baking soda paste (mixed with water) to the wound.
This home remedy also works for itchy bug bites and even sunburn.
3. Use Baking Soda as Elbow Grease
Pans can be a pain in the pot to clean. Cooked-on food is basically human Kryptonite. Your mother always told you that everything can be cleaned with a little bit of "elbow grease," but if you haven't been hitting the gym lately, sometimes your "grease" is on short supply.
That's where baking soda comes in. Using a paste similar to the skin-soothing remedy, you can remove stuck-on food like you have, in fact, been hitting the gym.
Bonus feature: Baking soda also makes stainless steel pots extra shiny.
4. Use Baking Soda to Clean Your Bathroom
Sure, that name-brand spray cleaner gets the job done in your bathroom, but have you ever stopped to think what kind of chemicals are in there? What kind of chemicals you're breathing in every time you clean your porcelain throne?
Skip the poison shower, and just use baking soda. It's not just good for porcelain – it also cleans tile, counters, faucets and other stainless steel fixtures. If you want things fizzy clean, spray everything with vinegar first. Adding baking soda to the mix will fizz away all the grime, eliminating the need for the "elbow grease" we talked about earlier.
You want your house to be spotless when showing it to prospective buyers. If you need more tips on how to make your home sparkle before you sell it, give us a call.
---
Your Comments