Choosing the Right Pool for Your Yard
When you decided you wanted to install pool, you may not have realized that there were so many choices available. What you decide to install will largely depend on the size of your yard and how you intend to use your pool. You may want a pool for an active young family or you may want to create a private backyard oasis. Following are some of the main considerations.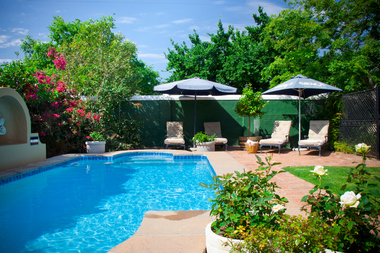 Above Ground versus In-ground
The biggest consideration when deciding between an aboveground and an in-ground pool will be the price. Because of the construction requirements for an in-ground pool, you could be looking at more than twice the cost for installation.
In-ground pools, however, have more design choices, last longer, and are less likely to be damaged. They also may add significant resale value to your home. An aboveground pool will be easier to install and maintain, and the repairs are less expensive, but they don't last as long and have fewer features. In some cases, they could decrease your home's resale value.
Pool Materials
Several new materials can be used for aboveground pools, but the selections still are somewhat limited. For an in-ground pool, you have significantly more choices, including vinyl-lined, concrete, and fiberglass pools.
The choices may depend on the yard space available to dedicate to the pool as well as the amount of construction you want to undertake. Maintenance also should be a consideration.
Chlorine versus Saltwater
At one time, there really weren't a lot of options for the kind of water you could use in your pool. Chlorine dominated the industry, but now saltwater pools are becoming much more popular.
Having a saltwater pool isn't as simple as adding salt to water. The processes can be just as complicated as the more traditional chlorine pools, but there are some added benefits. Saltwater pools require fewer chemicals and cleanings, but they will be more expensive.
Chlorine will be much less expensive from the start and these pools also use less electricity than a saltwater pool, making the overall costs potentially lower. But chlorine requires a bigger commitment from the pool owner in terms of maintaining the appropriate chemical levels and regular cleanings.
If you are ready to take the plunge and want to know what installing a pool can do for your home's value, call us today.
---
Your Comments