How to Fight Allergies -- Even on the Inside
Indoor allergens can affect your health on a daily basis. Family members in the same household are also at risk of allergic reactions. To prevent irritants from creating an unwelcoming environment, take action to stamp out the issues before they overwhelm you.
How often do you change your heating and air-conditioning filters? These filters continually cycle through their membranes air that often includes pollen grains, dust and other air pollutants. Constant use can lead to a buildup of particles; a clogged air filter will proceed to blow contaminated air into the home environment. The Environmental Protection Agency states that indoor air pollution is often two to five times that of an outdoor setting. You should aim to keep indoor air purified with frequent air filter changes. Follow the recommended changes as outlined on the filter packaging.
Vacuums are also important in the fight against indoor allergens. Older-model vacuums do not contain HEPA filters, and they often release some of the particles back into the home. To prevent unwanted pollen or pet dander from lingering around the home, upgrade your vacuum to a newer model. Look for ones with a trapping rate of at least 97 percent. According to Jotham Hatch, national training director for Chem-Dry, high-end HEPA filters can trap up to 99.7 percent of indoor particulates.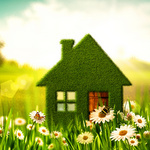 Does your home contain wall-to-wall carpeting or a large amount of rugs? If so, they should be attended to on a regular basis to remove any allergens trapped in the fibers. According to the American Lung Association, dust mites that linger in carpeting can trigger asthma attacks when the air is disturbed. Keep carpets clean with regular vacuuming and professional cleaning services. Door mats and entryway rugs are also beneficial in preventing outdoor particulates and pollutants from traveling around the home.
Upholstered furniture can be another source of lingering indoor allergens. Like carpets, upholstered furnishings take in dust, dander and other particulates. Hatch recommends that you run a vacuum over the entire surface at least twice a month and have a professional clean it annually.
Indoor allergens exist in any environment, but their effects can be reduced with routine cleaning. Invest in a HEPA-filter vacuum, clean your carpets and furniture, and keep all air filters unsoiled to prevent pollutants from entering your home. With regular upkeep, your home will become a welcoming sneeze-free zone.
---
Your Comments