Creating a Perfect Outdoor Kitchen
What do you like to cook when you're outside in the summer? From barbecues to wood-fired pizza ovens, outdoor cooking is a big trend for backyards. Whether you're cooking for your family or a block party, here are some things you should consider for your outdoor kitchen:
Gas grill
One of the most valuable tools you can have outside is your gas grill. Sure, you can roll your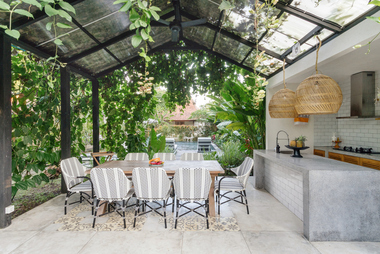 grill into your yard, but why do that when you can build a usable workspace by surrounding your grill with counters? Adding outdoor prep space can help make your grilling experience even better.
Smoker
If you want to get into the art of making good southern barbecue, you'll need a smoker. It works by cooking your meat low and slow over wood chips that impart flavor. There are dozens of styles to choose from, so pick something you can incorporate into your outdoor design.
Wood-fired pizza oven
What's better than pizza you make at home? Wood-fired pizza, of course. Cooking it in a traditional wood-fired oven will give you the flavor you could never get from your indoor oven. Pizza ovens are becoming very popular for backyard designs.
Refrigerator
If you're cooking outdoors, you don't want to have to go inside every time you need a cold drink. You can incorporate a refrigerator into your outdoor kitchen space. It's a great way to keep your favorite beverages at just the right temperature and keep your party going.
Do you want to entertain in your new yard? Call us to find out more.
---
Your Comments