Pre-Qualification or Pre-Approval: Why One Is So Much Better
When you're ready to buy a home, it helps to know how many mortgage dollars lenders will loan you. If you know that lenders will lend you $200,000, you won't waste time looking at homes that cost more than that.
That's why it's important to get pre-approved for a mortgage — not pre-qualified — before you start hunting for homes.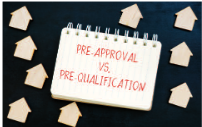 In a pre-approval, a lender will study your income and your credit score to determine how much mortgage money you qualify to borrow. The lender will then provide you with a pre-approval letter stating this figure. Once you find a home and are ready to make an offer, you can go back to that lender to close/settle your mortgage loan.
To start the pre-approval process, you will need copies of certain documents to verify your income, including copies of your two most recent paycheck stubs, two months of bank account statements, last two years of tax returns and most recent W-2 forms. Your lender will also check your credit. This is the big difference between pre-approval and pre-qualification. In a pre-qualification, you give a lender a rough estimate of your income.
Your lender will then tell you how much it would be willing to lend you based on that amount. The lender won't actually verify your income. This is why a pre-approval holds more weight with home sellers. They know that a lender has already reviewed your financial information and your financing is approved. Many sellers prefer working with buyers who have been pre-approved because there is less chance that the home sale will fall through.
---
Your Comments