Bankruptcy: A Post-Pandemic Overview
The COVID-19 pandemic and the economic downturn it caused took a toll on the finances of many business owners. Unfortunately, many now find themselves on the brink of bankruptcy. Bankruptcy is not the only answer for struggling businesses, but it is the right one in some circumstances. However, the various laws enacted as a result of the COVID-19 pandemic changed some aspects of the proceeding. For example, the COVID-19 Bankruptcy Relief Extension Act amends the definition of "income" for purposes of filing Chapter 7 and Chapter 13 bankruptcy to exclude COVID-19-related payments.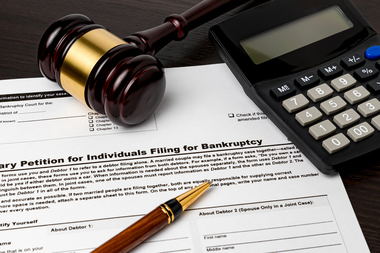 This article provides a brief overview of filing for bankruptcy under each of the chapters in the Bankruptcy Code. It also describes how Paycheck Protection Program (PPP) loans are treated during a bankruptcy proceeding. However, no individual or business should contemplate filing for bankruptcy without getting professional advice. The rules are complicated, and the effects can follow the debtor for many years.
Chapter 7 Bankruptcy
Businesses and individuals may file for bankruptcy under Chapter 7 of the United States Bankruptcy Code. However, even though sole proprietorships, partnerships, limited liability companies and corporations all are eligible to file bankruptcy under Chapter 7, it is rare that an entity other than a sole proprietorship chooses this option.
Most sole proprietors who file for Chapter 7 bankruptcy have a combination of business debt and consumer debt. How the bankruptcy is categorized — business or personal — largely depends on which category has the most debt. In addition, Chapter 7 may not be an option if the debtor has too much disposable income to meet the Chapter 7 means test.
In a Chapter 7 bankruptcy, qualifying unsecured debt is forgiven and property that is exempt under state law may be kept. However, certain debts are not dischargeable in bankruptcy, including income taxes for the past three years (and sometimes longer), spousal and child support, and student loan debt.
Secured debts may be paid off in two ways: (1) you may continue paying off the debt if you are current on your payments or (2) you may allow the creditor to repossess the property that you pledged as collateral in exchange for discharging the debt.
The court generally grants a discharge about four months after the bankruptcy case is filed.
Chapter 13 Bankruptcy
This chapter allows businesses to restructure their debts. Businesses that do not meet the requirements for a Chapter 7 bankruptcy may file under Chapter 13.
In a Chapter 13 bankruptcy, the debtor must (1) have enough income to repay a portion of the debt and (2) propose a three-to-five-year repayment plan. In addition, as of 2021, the debtor may not owe more than $419,275 in unsecured debt or $1,257,850 in secured debt. The COVID-19 Bankruptcy Relief Extension Act excludes COVID-19-related payments from this calculation. These limits are adjusted every three years, and the next reset is scheduled for 2022.
The COVID-19 Bankruptcy Relief Extension Act also permits individuals and families currently undergoing Chapter 13 proceedings and experiencing COVID-19-related financial hardship to seek payment plan modifications.
Chapter 13 plans generally take between three and five years to complete. The court generally grants discharge from bankruptcy as soon as practicable after all payments under the plan are completed.
Chapter 11 Bankruptcy
Chapter 11 bankruptcy is a remedy available to (1) sole proprietors whose debt exceeds Chapter 13 limits and (2) partnerships, limited liability companies and corporations seeking to restructure their debt. It is the only option for businesses that are seeking to reorganize but owe too much money to meet Chapter 13 eligibility requirements.
However, there is a "fast track" provision for small businesses that makes it easier for them, if their debts fall below a certain threshold. Small business owners should speak with their attorneys to see whether this is right for them.
Chapter 12 Bankruptcy
Chapter 12 bankruptcy is specifically for operators of a family farm or fishery. The rules are very specific. At a minimum, at least 80% of the debtor's debts must arise from the operation of that entity. Very few bankruptcies are filed under this chapter.
Determining the Best Option for You
Declaring bankruptcy for yourself, your business or both is a major decision. Still, it may be the best path forward. Note that this is just a general summary — there are additional rules and considerations for these options. If you think bankruptcy is a possibility for you, consult a professional.
There are many rules and requirements that must be followed. Be sure to get the guidance you need before making any decision.
---
Your Comments