Do You Need Flood Insurance?
You may not be aware that just one inch of floodwater can cause up to $25,000 in damage. Still, most homeowners insurance doesn't cover flood damage. Flood insurance is a separate policy covering buildings and their contents. Homeowners insurance for water damage is generally limited to problems like burst pipes, not an inundation of water on the ground.
If you want to protect your home, business and other possessions from flood damage, you should look into the National Flood Insurance Program, which provides flood insurance to property owners, renters and businesses. Having coverage helps you recover faster when the floodwaters recede.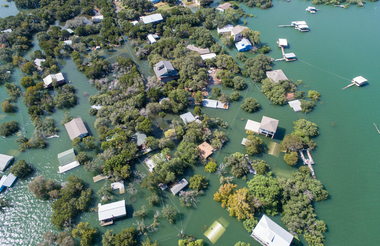 The NFIP, a division of the Federal Emergency Management Agency, works with communities required to adopt and enforce flood plain management regulations to help mitigate flooding effects. So, if you live in one of the 23,000 communities that participate in the NFIP, flood insurance is available to you.
Recently released new flood insurance rating procedures are expected to go into effect on October 1, 2021. These procedures are meant to equitably distribute the cost of insurance for potential flood damage based on the risk a property faces. FEMA cites advances in technology, access to data and an evolution in understanding flood risk for the price hikes. The current system hasn't changed since it was first developed in the 1970s.
It is expected that more than 3.8 million homeowners will see rates increase — most homes won't experience year-over-year price hikes of more than 18% — but 1.2 million may see flood insurance premiums drop. It depends on where you live, so if you have flood insurance or think you might need it, keep in close contact with your insurance professional.
You may want to buy a policy before a storm comes, especially during hurricane season. You can also look into private flood insurance, which may allow for more customization and typically has a shorter waiting period than NFIP insurance, which has a 30-day waiting period. However, private insurance is not available in all areas.
How to purchase flood insurance
How do you purchase flood insurance? Call your insurance company or agent. If you need help finding a provider, you can go to FloodSmart.gov. If coverage is mandated and it's purchased as required by a federally backed lender or is related to a community flood map change, the 30-day waiting period may be reduced.
FEMA retains responsibility for underwriting flood insurance coverage sold through insurance companies and by NFIP Direct. In the event of a flood, your policy will cover direct physical losses to your structure and belongings, including your electrical and plumbing systems, furnaces, water heaters, electronics and appliances.
What isn't covered by flood insurance? Damage caused by the earth moving, additional living expenses, walls and decks, swimming pools, currency and valuable papers. There is limited coverage in the basement; washers and dryers are covered, but carpeting and wall finishes aren't. These are just general guidelines. Look at your policy terms for details.
Relying on federal disaster aid after a flood isn't a good financial plan. Disaster aid can take many months and isn't offered after every flood. Contact your financial or real estate professional to see whether you need flood insurance and how much.
---
Your Comments