Business Coaching for a New World
Good coaches know how to break down performance into its critical individual components. In sports, coaches focus on mechanics, conditioning and strategy, and have ways to break each of those down. Coaching aimed at improving the performance of business professionals is less common.
Coaches provide outside eyes and ears to make you aware of where you're falling short. This is tricky. Human beings resist exposure and critique; our brains are well defended. So coaches use a variety of approaches — showing what other, respected colleagues do or reviewing videos of your performance. The most common, though, is conversation.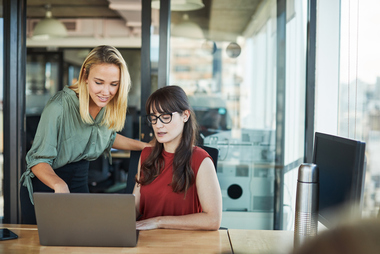 Good coaches speak with credibility, make a personal connection and focus little on themselves, listening more than talking. Guidance for professionals has been treated as a luxury, but coaching may prove essential to the success of modern society, because given the pace of change, to be agile and adapt quickly, we often need help making the turn.
You could think about coaching as resculpting something that already exists. Coaches:
Work with subjects to increase their abilities.
Build on foundational knowledge and skill.
Mold and adjust.
Offer hands-on, personalized training.
Base their suggestions on real-time proficiency.
Use real-world applications.
There are different approaches to coaching:
Adaptive coaching is goal oriented and balances the personal and practical needs of the person being coached. This method doesn't create a long-term relationship with the coach but focuses on what challenges exist and how to overcome them. The coach emphasizes your strengths, providing support and resources to shore up development areas and create the confidence needed to explore what needs to be done.
Executive coaching helps senior leaders by allowing thinking space and offering a sounding board to think through issues and generate new ideas. It's often as much about personal growth as business growth and can be transformational. It redefines purpose — what's important personally.
Leadership coaching helps leaders improve by understanding the organizational and corporate cultural issues that can impact someone in a leadership position. The coach would have a blend of business experience and understanding of psychology and organizational cultures and systems.
Career coaching focuses on your career and career development. It uses advising, consulting and mentoring, and often may use some psychometric tools to help you gain insight into your career preferences. It can focus on how personality impacts career choice. Some recruiting companies provide this as a value-added service to candidates.
Team coaching helps the team achieve superior performance while trying to create more fulfilling lives for team members. The coach acts as a catalyst to address not only what the team does but also how they do it. It may incorporate facilitation and consulting skills.
Business coaching provides support, feedback and advice to an individual or team to enable improvement in personal performance in a business setting.
Systemic coaching focuses more on changing the organization itself and the entities that operate within it.
Life coaching focuses on the development of an individual. It may incorporate psychology, neuroscience, sociology, adult development and career development.
Elite performers engage in deliberate practice — sustained, mindful efforts to develop the full range of abilities that success demands. Expertise requires going from unconscious incompetence to conscious incompetence to conscious competence and, finally, to unconscious competence.
Coaching done well may be the most effective intervention designed for human performance. A determined effort to introduce coaching could employ the growing pool of retirees as a ready reserve of accumulated experience and know-how.
---
Your Comments