| | |
| --- | --- |
| , Here Are Your Articles for Thursday, January 07, 2021 | |
What Is D&O Insurance and Who Needs It?
Directors and officers liability insurance protects the personal assets of corporate directors and officers and their spouses should they be sued by employees, vendors, competitors, investors, customers or other parties for actual or alleged wrongful acts in managing a company. As explained by the Hartford, this insurance "covers legal fees, settlements, and other costs. D&O insurance is the financial backing for a standard indemnification provision, which holds officers harmless for losses due to their role in the company."
Contrary to most people's perceptions, D&O insurance isn't just for public companies. Any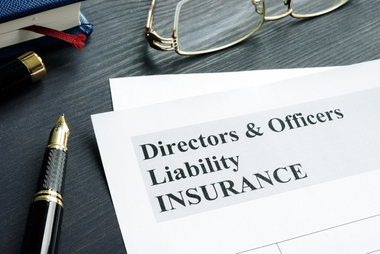 business with a corporate board or advisory committee — including private and nonprofit firms — can face D&O risks of litigation.
Since the COVID-19 pandemic began, D&O claims have grown. Companies' inadequate health and safety precautions to prevent the pandemic's spread form one basis for the claims:
A wrongful death suit has alleged that Walmart failed to properly clean and disinfect the store, implement and promote social distancing, warn employees of the risks of COVID-19 or provide protective equipment to employees, which allegedly resulted in the death of an employee due to complications from the coronavirus that he contracted while working at Walmart.
A similar wrongful death action was filed against a cruise line company regarding the death of a passenger who allegedly contracted COVID-19 aboard the company's cruise ship.
Companies that failed to comply with the Worker Adjustment and Retraining Notification Act are finding themselves in hot water. The WARN Act imposes certain requirements on employers concerning closures and layoffs to "provide workers with sufficient time to prepare for the transition between jobs they currently hold and new jobs." Class actions have been filed against firms for violating the WARN Act by purportedly relying on the pandemic to justify terminating workers on improperly short notice.
Claims also may result as employees begin returning to the workplace and claim that their employers haven't instituted adequate policies and procedures to ensure the workplace adequately protects employees' health and safety.
Sales of securities provide another basis for many D&O claims:
Shareholders have brought class actions against multiple companies alleging that they failed to inform shareholders of or even downplayed the significant impact of the pandemic on business — including lawsuits against two different cruise lines.
An animal supply company has been sued for its revenue downturn, purportedly based on changes in its distribution channel because of COVID-19.
A recent class action against a Canadian cannabis company alleges that the firm defaulted on its obligations under certain debentures by failing to make interest payments due to the impact of the coronavirus on the company.
Shareholders also have sued a company for falsely stating that it had developed a vaccine for the virus when news that such reports were false resulted in a steep decline in the company's stock price.
As the spread of the coronavirus impacts businesses' bottom lines, directors and officers will continue to have broad liability exposure to shareholders, stakeholders, employees and the government. There are various complex liability and coverage issues that may continue to develop during and perhaps long after the spread and containment of the pandemic. Be sure to work with a financial professional to make sure you're covered.
---
Your Comments
Davis & Graves CPA, LLP
700 N Main Ave
Gresham, OR 97030
Office (503) 665-0173
firm@davisgraves.com
www.davisgraves.com
Saved Articles
Comments and Feedback
Refer A Friend
Your Privacy

Our firm provides the information in this e-newsletter for general guidance only, and does not constitute the provision of legal advice, tax advice, accounting services, investment advice, or professional consulting of any kind. The information provided herein should not be used as a substitute for consultation with professional tax, accounting, legal, or other competent advisers. Before making any decision or taking any action, you should consult a professional adviser who has been provided with all pertinent facts relevant to your particular situation. Tax articles in this e-newsletter are not intended to be used, and cannot be used by any taxpayer, for the purpose of avoiding accuracy-related penalties that may be imposed on the taxpayer. The information is provided "as is," with no assurance or guarantee of completeness, accuracy, or timeliness of the information, and without warranty of any kind, express or implied, including but not limited to warranties of performance, merchantability, and fitness for a particular purpose.

Powered by

Copyright © IndustryNewsletters All rights reserved.

This email was sent to: cristeenc@davisgraves.com

Mailing address: 700 N Main Ave, Gresham, OR 97030