Tomorrow's Kitchen: What Are the Big Trends?
Kitchens today are more than just places to cook meals. Families gather and parties are hosted there. People do their jobs or schoolwork from the kitchen. If you're looking for an upgrade, there are some trends you may want to consider. Let's take a look at the five biggest kitchen trends right now: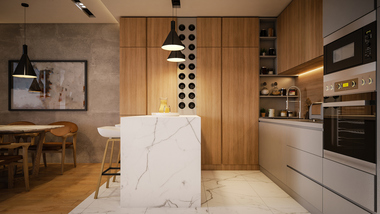 Mixed metals
Don't worry about trying to match all your fixtures to your stainless-steel appliances. Mixed metals are all the rage. Using multiple metals for appliances, sinks and light fixtures is not only okay but also celebrated. Mixed metals can give your kitchen a high-end look.
Smart appliances
It's not surprising that smart appliances are becoming popular. The Internet of Things is how appliances connect through your smart devices to take daily household tasks to the next level. Consider a smart oven or fridge and even smaller appliances like coffee makers.
Quartz counters
Countertops have evolved a lot over the years. The laminate popular in the '60s and '70s gave way to natural granite that became the gold standard for many kitchen designs. But today, quartz is getting its time in the sun. Quartz comes in countless natural patterns and colors, so there is sure to be an option for your kitchen.
Light wood tones
For a while, dark wood cabinets were all the rage. Then white became the go-to color for cabinets. Today, light wood tones are in style and look great with any kitchen design and color palette. Light wood cabinets give your kitchen an airy, Scandinavian feel.
Textured tiles
Texture tiles are on trend now for floors and backsplashes. Even in designs like subway tiles, handmade pieces with imperfections or uneven edges are becoming very popular. People are looking past perfect lines toward something more natural.
What does your dream kitchen look like? Call us today to see how we can help.
---
Your Comments