What Floor Plan Is Right for Me?
What is a floor plan? It's the way the rooms in your home are laid out to provide functionality for the way you live. While there are details in floor plans that will vary from house to house, such as the location of the laundry or access to the backyard, many have the same ideas in common. Here are a few of the most popular floor plans to consider.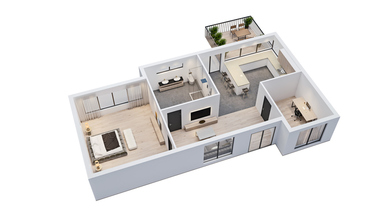 Traditional or Closed Floor Plans
Closed floor plans were the default until the mid-20th century. These homes have individual spaces divided by walls, so the kitchen is separate from the living room and dining room. If you and your family like a little more privacy, this is a good option for you.
Contemporary or Open Floor Plans
Open concept floor plans didn't hit the scene until the 1970s. In these contemporary homes, the kitchen and living space were often part of one large area so anyone could see and interact with others even in separate rooms. Open floor plans are popular in new construction today.
Custom Floor Plans
For people who have a vision and can work with a builder to design and create their own home, the options are limitless. Sometimes you see unconventional plans in homes on the market, which can be entertaining when you are shopping for a new place.
Single Story
In a single-family home, some people prefer the convenience of first-floor living. The single-floor layout is ideal for new parents who don't want to be a floor away from their children or for older adults who want to age in place. Single-story homes, such as ranch-style houses, don't have stairs to navigate.
Multistory
If you are looking for homes with multiple stories, several traditional styles fall into that category. If you don't mind staircases, check out options such as split-level homes, colonials or bungalows.
What is the perfect layout for your family home? Call us to learn more today.
---
Your Comments