Energy Efficiency Trends This Year
Energy efficiency in our homes has become a major topic of conversation over the past few years. Older homes need to be upgraded to leverage more efficient electrical and HVAC systems and newer homes are being built with new standards. So what trends can help you be more energy efficient in your home this year? Let's take a closer look.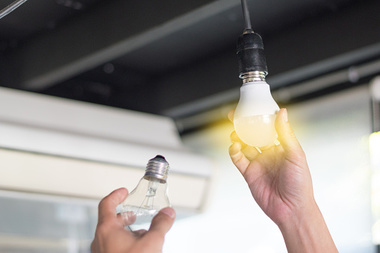 Install a ceiling fan
A simple fix to ensure your home is heated and cooled efficiently is to install a ceiling fan. It will help circulate the air better so your furnace or air conditioner doesn't need to run as often to provide the same amount of comfort.
Use a smart thermostat
Smart home technology, or the internet of things, has been growing in popularity over the past several years. Installing a smart thermostat that you can control from an app, whether you're home or away, can keep the system running efficiently.
Change your light bulbs
Simply changing out the light bulbs you're using in fixtures can help save money and energy. Compact fluorescent light or light-emitting diode bulbs are the most efficient. LED gives off a softer light and often has the bonus of additional settings or colors.
Reassess insulation
Something every homeowner should do is assess his or her structure's insulation to ensure the home can be heated or cooled efficiently. Insufficient insulation can lead to air escaping, which can cause your HVAC system to run more often or for longer periods of time in order to compensate.
Install smart appliances
Your kitchen can be made efficient by upgrading to Wi-Fi-enabled smart appliances. Stoves and ovens can be set to preheat or even cook by using an associated app. Smart refrigerators maintain zoned cooling or efficiently make ice. In your laundry room, a smart washer can conserve water.
How can you make your next home more energy efficient? Call us to learn more.
---
Your Comments