Are Colorful Kitchen Cabinets the New Trend?
Color in the kitchen can give the space a vibrant look. More and more homeowners are achieving this through the selection of kitchen cabinets rather than painting walls and adding other décor features. Cabinets don't have to be neutral. Popular colors include blues, greens, and yellows, but when it comes to decorating your kitchen space, you have unlimited options. Following are some of the most popular kitchen cabinet color trends you can consider.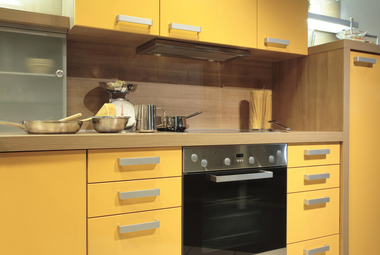 Classic Gray-Blue
If gray is becoming just a little too repetitive for you, why not aim for something with a little more blue? The best part about the gray-blue family of colors is that you can have as much saturation as you want. You can lean toward gray with just a hint of blue or choose a bolder hue.
Earthy Green
If you want to incorporate earth tones in your kitchen but are tired of beige and brown, consider an earthy green. Colors in this family blend well with other natural colors, including wood tones, and also will create a natural warmth in your kitchen.
Sunshine Yellow
Speaking of warmth, you can't get much warmer than yellow. Just like gray-blue, colors tinted with yellow can range anywhere from warm cream to bright sunshine. Yellow also matches a wide variety of other colors and looks great with gray, blue, white, brown, or even red.
Dark Navy Blue
If you want to add drama to your kitchen but don't like the look of black cabinets, consider navy. A dark navy blue can create a similar effect as black cabinets and provide a point of interest. As with the other trending colors, navy can be incorporated into just about any design scheme.
Call us today to talk more about the colors you are dreaming of in your next kitchen.
---
Your Comments